Ready and Raring to Go!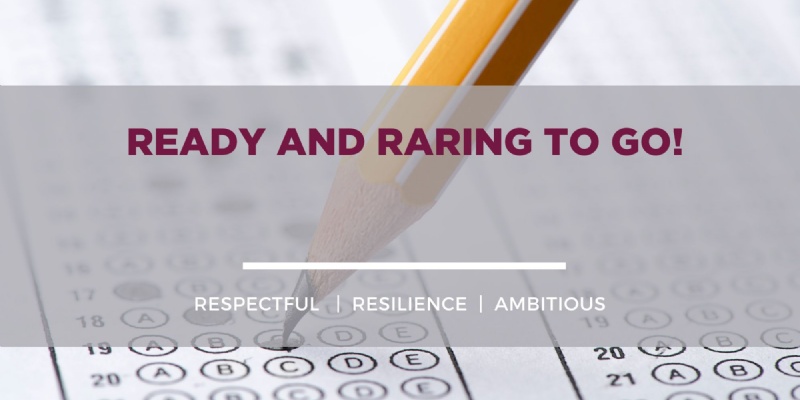 On Monday of this week, a group of ten Year 11 students sat their first GCSE examination - Religious Studies. This was followed on Tuesday by a Science examination which all Year 11 students sat. Last week, those students who study GCSE French, German and Spanish had their GCSE speaking tests. Next week sees the first A Level exam of the summer series. For sure, the type of activity that has been absent from school for so long has returned with a vengeance! Examinations will run until late June.
It is 3 years since students at Brookfield - and across the country - experienced actual examinations. COVID-19 restrictions meant that grades were awarded in 2020 and 2021 based on teacher judgements. This was an imperfect system, to say the least. The resulting grade inflation across the country was one of the main reasons why the return to normal assessment was so important. External examinations are the fairest way to test student ability and performance. To address the disruption of the past two years, this year's examinations have been modified to ensure all students have extra support. These modifications include the use of more generous grade boundaries, the release of 'advance information' and support materials. Details can be found here.
My overwhelming belief is that everyone at Brookfield is ready and raring to go this summer. Whilst exams, and the preparation that accompanies them, can be stressful, our students and staff have embraced this challenge. Attendance to school this year has been outstanding, and well above national average figures. Revision classes have been well-attended, including during our Easter revision school. Staff report that students are focussed and have a real appetite to do well.
This week I have been dropping into exam 'booster sessions'. These are intensive revision classes that are timetabled the day before and on the morning of exams. The aim is to provide students with a final revision input to help allay any fears and to boost confidence. The degree of planning by teachers, and the focus and engagement of students, is extremely impressive. Another indicator that both students and staff are working together with a common goal and to rise to the challenge this year. Another indicator of just how special a school Brookfield is.
We make it clear to students that hard work, determination and resilience are traits that will enable them to reach their goals and achieve their dreams. The abiding impression from this crucial stage of the year is that this message is not only understood, it is being embraced.
Keith Hirst, Headteacher
No comments have been left yet.