The Power of Education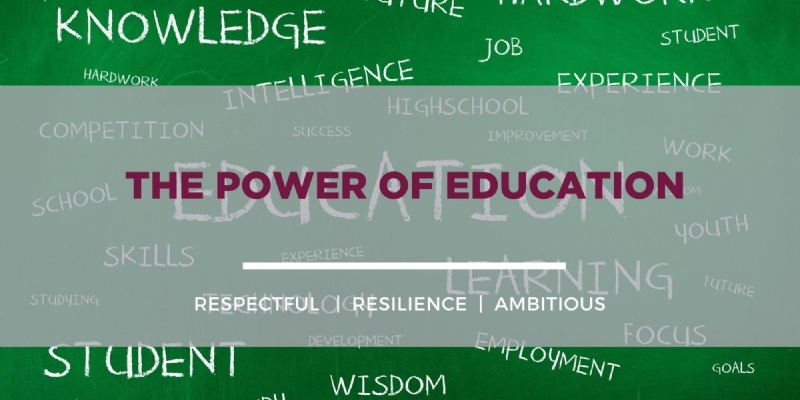 The power of education
As highlighted in last week's blog, this summer's examinations are underway. I am pleased to report that students have responded brilliantly. What is clear is how seriously our students are taking the examination series. Attendance at revision booster sessions is excellent and students are reporting that they feel relieved that they can show what they are capable of.
The first set of examinations in 3 years provides a reminder of the importance of this stage of a young person's education. It is also a reminder of the role that academic ​achievement can play in helping to shape the next steps that young people take.
During the Covid lockdown in 2020, a parent kindly sent me a copy of a TV documentary about Cec Thompson, a former teacher at Chesterfield Boys School - Brookfield's predecessor. The documentary was filmed in 1989 and tells the story of an extraordinary life and how Mr Thompson moved from humble origins to become a professional rugby player, before training to become a teacher of Economics and from there a successful entrepreneur. The film can be viewed here https://fb.watch/1C4d1Om5h9/
The documentary is very watchable for many reasons. The story of Cec Thompson itself is fascinating. The footage from the school in 1989 is great to see, providing a glimpse of life at Chesterfield Boys School. It is fair to say that, until recently, some facilities and classrooms had barely changed! Importantly, the video also provides some important messages about the power and importance of education itself:
Education as a key to social mobility - the video describes how Mr Thompson moved from 'illiterate orphan to ...running a business empire... from labouring class to professional class'.
The importance of hard work - 'resilience' (a core value at Brookfield).
Chesterfield Boys described as 'one of Britain's best schools'. This is a further reminder of the history and prestige of the school, and a reminder of something that we strive for today.
The role that teachers can play in the lives of young people - listen to how students talk of Mr Thompson and the esteem in which he is held.
The final point is a useful reminder of the powerful role that teachers can play. We will all be able to bring to mind our favourite teachers, and why they were important to us. It is timely that this Thursday is 'Thank a Teacher Day', an annual campaign to highlight the impact that teachers can have with children and on wider society. Details of this campaign can be found here: https://thankateacher.co.uk/
I myself enjoy watching the sport of rugby league and have been a life-long Featherstone Rovers fan. The film has lots of footage and anecdotes from the world of this noble sport, where Cec Thompson made his name as a powerful forward for Hunslet and Workington Town. He went on to represent Great Britain in 1951. From rugby he went to university and became an economics teacher, and some footage from the film shows him in action in this arena, as well as on the rugby field.
Cec Thompson was a man who entertained those fans who watched him play rugby with such prowess. He earned the respect and admiration of the Chesterfield students he taught, and he supported people through the successful businesses he owned and ran. His story is one that involves incredible adversity. It is a story made possible by the role of education and is a reminder of the privilege and responsibility of working in the field of education.
Note
In addition to the 1989 documentary, Mr Thompson's story is also captured in his autobiography, 'Born of the wrong side'. Well worth a read and is available to buy online at www.abebooks.co.uk/book-search/title/born-wrong-side/author/thompson-cec/
Mr Keith Hirst