Festive Food Bank Collection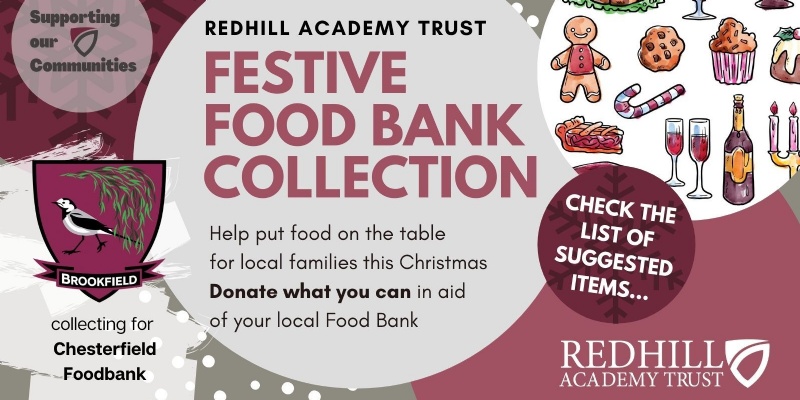 Students in Years 8 to 13 are being invited to bring donations of food and other goods which we can deliver to Chesterfield Food Bank.
Redhill Academy Trust schools are asking that you donate what you can this festive season to help put food on the table for local families. Brookfield students in Years 8 to 13 are collecting in aid of Chesterfield Food Bank, an organisation that we have supported over the Christmas period for several years.
The list of some of the suggested donations is as follows:
Christmas Cake
Stuffing Mixture
Variety Tins/Boxes (e.g. Quality Street, Roses, Heroes)
Tinned Vegetables
Tinned Fruit
Biscuits / Chocolate
Tinned Fish
Jam
Tea and Coffee
Dried Pasta
Rice
For a full list of suggested donations, please click here.
Students should check with their Form Tutors for where to bring their donations, all of which should be brought in to school by Tuesday 15th December. Donations will then be delivered during that week.
Brookfield Community School and Redhill Academy Trust are committed to supporting our local communities, and we are hopeful that this initiative will bring some relief to those who have been hardest hit during what has been a very trying year.