Excellence... A Journey not a Destination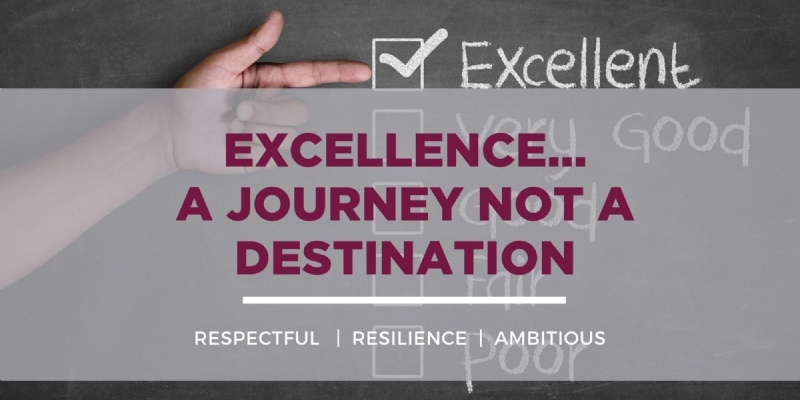 I am delighted to bring you the first of my blog posts, designed to offer an insight from Brookfield and the wider field of education. I will admit at this early stage to a dash of self-indulgence. My enjoyment of writing - and love of reading - means that producing regular blog posts is no hardship; quite the opposite. To launch the blog, I would like to begin by considering the origins of an important aspect of the school and one that influences what we do; the idea of 'excellence'.
In the days before Covid-19 - in the Autumn of 2019 to be accurate - as a school we set about identifying Brookfield's core purpose; what we were proud of, what we wanted to change, what was our vision. From this process, which involved staff, students and governors, emerged our over-arching mission strapline, 'Committed to Excellence'. This now appears on school documentation, signage, online media and other materials produced by school. 'Committed to Excellence' is a phrase we use with students and staff; it is a phrase which we return to as a reminder of what we are determined to achieve.
Our mission of being committed to excellence is underpinned by three core values, which came from the same visioning process in 2019. These are Respect, Resilience and Ambition. These values were agreed after lots of discussion and debate and, we feel, best reflect Brookfield and its community. I will regularly revisit these core values in my blogs, providing examples of where they have been in evidence, how we are promoting and embedding them in all we do.
Committed to Excellence is a phrase we use with students and staff; it is a phrase which we return to as a reminder of what we are determined to achieve.
As Headteacher at Brookfield, I occupy the incredibly privileged position whereby every day I am able to talk with our students - to hear their views and to see the work they do. I get to see excellence in action every day. And so, to Art...
For our Head of Art, Mr Fallon (who is also the Director of Art for Redhill Academy Trust), excellence is important. His expectations are very high for all students. Mr Fallon shared with me recently the example of three students - Zara B in Cu4, Isobel F in Cu6 and Aveline G in Ga7 - who had produced some terrific work during
lessons. However, they were not satisfied with the final outcome and took it upon themselves to take the necessary equipment home to refine and improve their work. They were determined to produce outstanding excellent work for Mr Fallon. And the outcome was just that, as can be seen from the image (right). Mr Fallon was delighted with the effort and the outcome, and was keen to share with me this example.
This is also a reminder that 'excellence' is not something that can simply be commanded. It is a destination that requires effort, practice, resilience, skill and more. In the same way that achieving excellence in an individual piece of work is a journey, so it is for an organisation. Brookfield is a wonderful school with the potential to be truly excellent and one of the top schools in the country. I hope you find my blog offers a new perspective on our journey.
Keith Hirst, Headteacher
No comments have been left yet.