Curriculum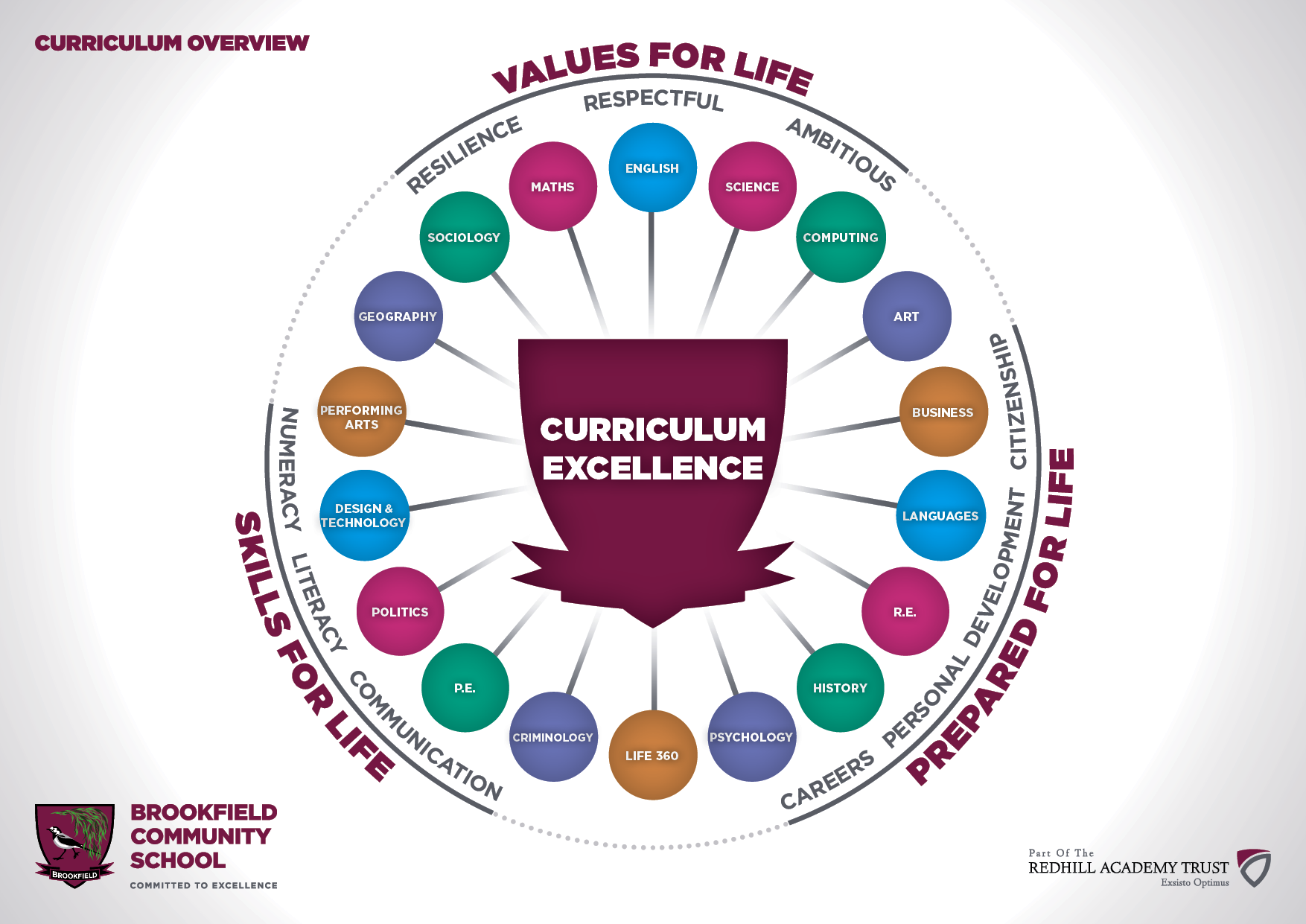 The aims and underlying principles of the Curriculum
At Brookfield we deliver a broad and balanced curriculum that is designed to provide all students with the opportunity to succeed, realise their life chances, be valuable members of the community and achieve their dreams. We are proud that we have always committed to a 3 year KS3 experience in order to ensure that students experience a breadths of knowledge enabling them to follow their own passions and to make appropriate choices.
We aim for very child at Brookfield to be fully engaged in learning and ready for a successful transition to their next stage of education or employment.
At the heart of our curriculum is the desire for students to secure extensive and rich knowledge through high-quality lesson delivery within the broad curriculum. Our sequential curriculum is built around the principles of knowledge retention and teachers work together to develop strategies to ensure that learning is embedded in the long term memory. From September 2020 all teachers will be involved in Teaching & Learning Communities (TLCs) which will meet throughout the year to share good practice and research informed practices. The long term areas of focus for the TLCs are to equip all teachers will the skills to deliver high quality, effective classroom practice. Formative and summative assessments provide opportunities to help retrieve and embed knowledge whilst allowing teachers to identify and then tackle misconceptions.
We are committed to ensure that students are prepared for life, supporting and encouraging every individual to develop the skills and character that will help them become the best they can be and make a real difference in the world. Our Life 360 curriculum provides a forum for discussion and learning about topics that will enable our students to become well rounded and informed individuals. The curriculum is regularly updated, taking into account current affairs and other relevant issues that will support our students' education. It meets the statutory requirements to provide knowledge about sex and relationships education, citizenship and careers and is supplemented through our assembly programme.
Curriculum 2020-21: Key Stage 3 (Year 7, 8 & 9)
Students have 25 lessons per week and follow a two week cycle timetable
Students are taught in form groups in Art, Computing, Geography, History, Performing Arts, RE and Life 360
MFL: Students are taught a language in form groups in Year 7 & 8 but are set by ability in Year 9.
Maths, English and Science: Students are set by ability in each half year group.
D&T: Students are taught food and D&T on a rota in half year groups. This enables them to experience each of the subject areas.
PE: Students are taught in half year groups in single gender classes.
KS3 - Allocation of hours:
| Subject | Number of hours per fortnight |
| --- | --- |
| Art | 2 |
| Computing | 1 |
| Design and Technology | 4 |
| English | 8 |
| Geography | 4 |
| History | 4 |
| Life 360 | 1 |
| Maths | 8 |
| MFL | 4 |
| PE | 4 |
| Performing Arts | 2 |
| RE | 2 |
| Science | 6 |
Life 360 is also delivered in 2 tutor periods each week.
Curriculum 2020-21: Key Stage 4 (Year 10 & 11)
Students have 25 lessons per week and follow a two week cycle timetable.
Key Stage 4 groups work primarily towards external qualifications. KS4 curriculum is a mixture of 4 core subjects and 4 Option subject chosen form the list in the table below. The majority of KS4 students take at least one humanity subject (history/geography).
| Subject | Number of hours per fortnight |
| --- | --- |
| Compulsory Core Subject | |
| Maths | 8 |
| English | 10 |
| Combined Science (Triple Science is an option subject) | 10 |
| PE (non-examined) | 2 |
| Options | |
| Art, Business, Computing, D&T, Drama, Engineering, French, German, Geography, Hospitality & Catering, History, ICT, Music, PE, RE, Spanish, Triple Science | 5 |
Core RE is also delivered on a rota in Y10, developing the speaking and listening skills required during English Language.
Some students have the opportunity to take Further Maths in Year 11.
Life 360 is also delivered in 2 tutor periods each week.
Curriculum 2020-21: Key Stage 5 (Year 12 & 13)
Students opt to study at least 3 of the following subjects;
Fine Art

Biology

Chemistry

Criminology

Economics

English Language

English Literature

French

Geography

History

Maths

Politics

Physics

Physical Education

Product Design

Psychology

Spanish

Sociology
Each subject is allocated between 4 and 5 lessons a week, depending on the cohort size.
Extended Project Qualification (EPQ) is additionally offered to students to complete.
Life 360+ is also delivered for 1 hour each week in Year 12 and Year 13.