Careers Support
Brookfield Careers Education, Information, Advice and Guidance
Brookfield Careers Education, Information, Advice and Guidance prepares and supports students for their futures. Our careers' curriculum is mapped against the nationally recognised Gatsby Benchmarks, and we are one of the few schools in Derbyshire to hold the 'Career Mark Platinum Award' for providing a quality Careers Education, Advice and Guidance Programme. This has been revalidated until July 2023.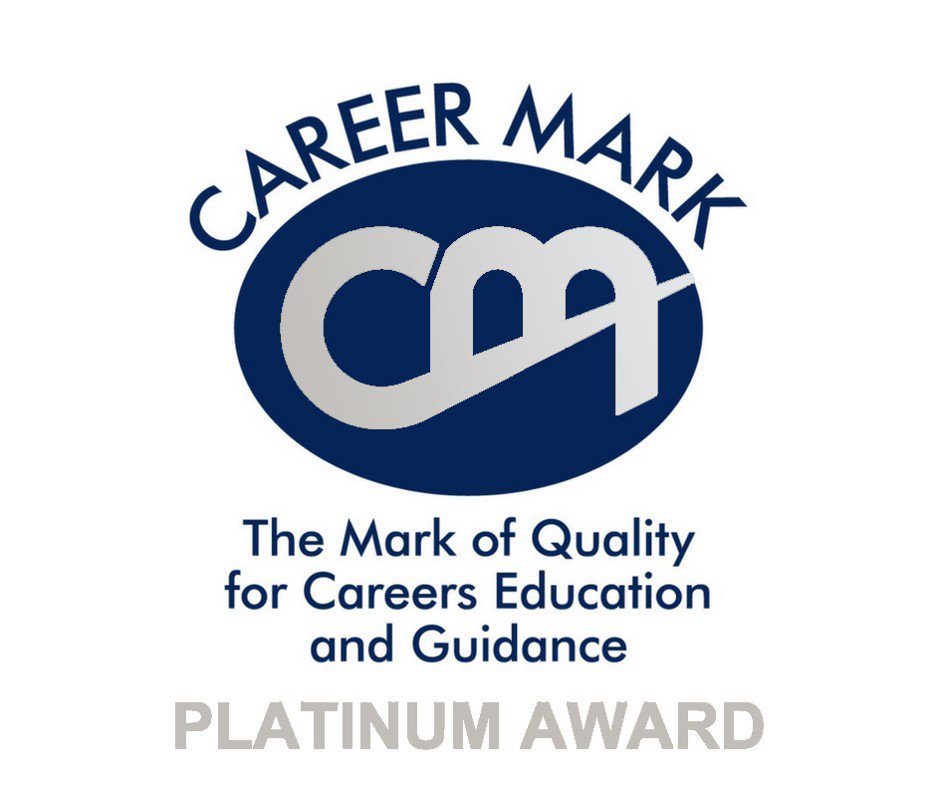 The careers' curriculum is delivered through a combination of form time, assemblies, drop down days, PD lessons, embedded within the curriculum and guest speakers, trips and visits.
The operational plan includes intended CEIAG provision for this academic year. Some of the scheduled events are 'to be confirmed' largely due to logistical arrangements which still need to be decided in light of Covid-19 restrictions. This also means provision may be subject to amendment in order to respond to changing requirements. We remain committed to providing Brookfield students with quality CEIAG provision, even if we need to be more flexible in its delivery.
Baker Clause Policy Statement
As part of our commitment to informing Brookfield Community School students of the full range of learning and training pathways on offer to them, we are happy to consider requests from training, apprenticeship and vocational education providers to speak to our students.
Brookfield Community School proactively seeks to build on close working relationships with providers to speak with students which may include school assemblies, employer and provider engagement events or opportunities to speak with students and parents on a one-to-one basis supporting GCSE, Post 16 and Post 18 choices. In the first instance, requests by providers should be sent to the School's Careers Lead, Mrs Dafforne (h.dafforne@brookfieldcs.org.uk) with a minimum of 6 weeks' lead time. All requests will be considered on the basis of; staffing availability to support the activity, clashes with other planned activity, trips or visits to the School, interruption to preparation for examinations or rooming and space availability to host the activity.
The school holds the Career Mark Platinum Award which denotes that Brookfield Community School provides a quality Careers Education, Advice and Guidance Programme. This has been revalidated until July 2023.
For questions on this or information about Careers Information, Guidance and Employability please contact Mrs Dafforne.
Employability
Careers Assistance During the Coronavirus Outbreak
To help parents and students studying from home, www.successatschool.org are making the electronic versions of all of their Gatsby Subject Guides available free of charge. You can access them by clicking here.
Your Careers Team
Mrs Dafforne

School Lead on Careers (Assistant Headteacher)

Mrs Brown
Careers Advisor
In school every Wednesday, based in the Careers Office. To make an appointment call in to see Mrs Brown at break or lunch or ask your form tutor.

Mr McIntyre and Mrs Nash
Heads of Year 12 and Year 13
'Good Careers Guide' Gatsby Benchmarks
The Gatsby Benchmarks are referred to everywhere in the careers world, but what are they, where have they come from and what do they mean?
The Gatsby Benchmarks are extremely topical at present having been explicitly referenced throughout the DfE's Careers Strategy (December 2017) and the new Statuary Guidance for careers (January 2018). They have actually been around since 2013, here we provide a summary of the benchmarks exploring what they are, how they affect schools and are they any good!
The Gatsby Benchmarks originated in a research report (Good Career Guidance) from the Gatsby Foundation in 2013. The report was commissioned by Lord Sainsbury and Sir John Holman was appointed to lead a research team to focus on international evidence for 'what works' in career development.
The report found 8 benchmarks of best practice, which are now more commonly known as 'The Gatsby Benchmarks.' They are:
A stable careers programme
Learning from career and labour market information
Addressing the needs of each pupil
Linking curriculum learning to careers
Encounters with employers and employees
Experiences of workplaces
Encounters with further and higher education
Personal guidance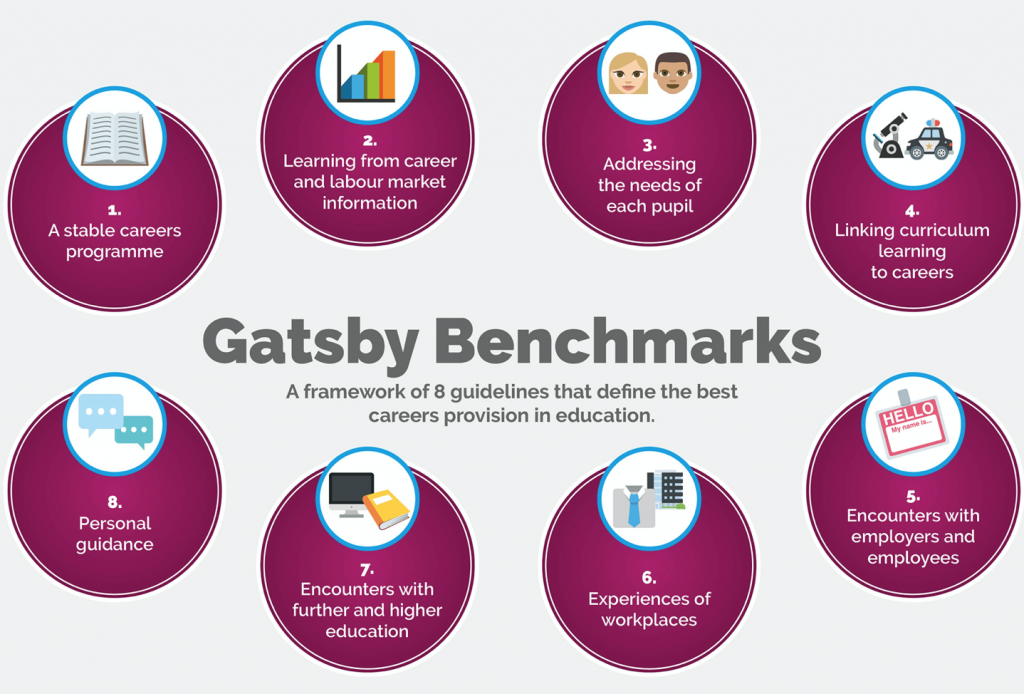 If you would like to find out more details from the Gatsby Report on Good Career Guidance, please click here www.gatsby.org.uk/uploads/education/reports/pdf/gatsby-sir-john-holman-good-career-guidance-2014.pdf
The most recent figures from Brookfield Community School (April 2022) are shown below: