Information for Parents
Careers Education, Information, Advice and Guidance Guarantee
We guarantee that all guidance, information and advice is impartial and up-to-date, in line with the school's policy for Careers Education, Information, Advice and Guidance.
We want to work in partnership with parents to help all students make the best decisions, so please feel free to contact us at any stage in the next year to discuss your child's choices. Alternatively, the diagram below shows which members of staff at Brookfield can also help to support your child with their future options: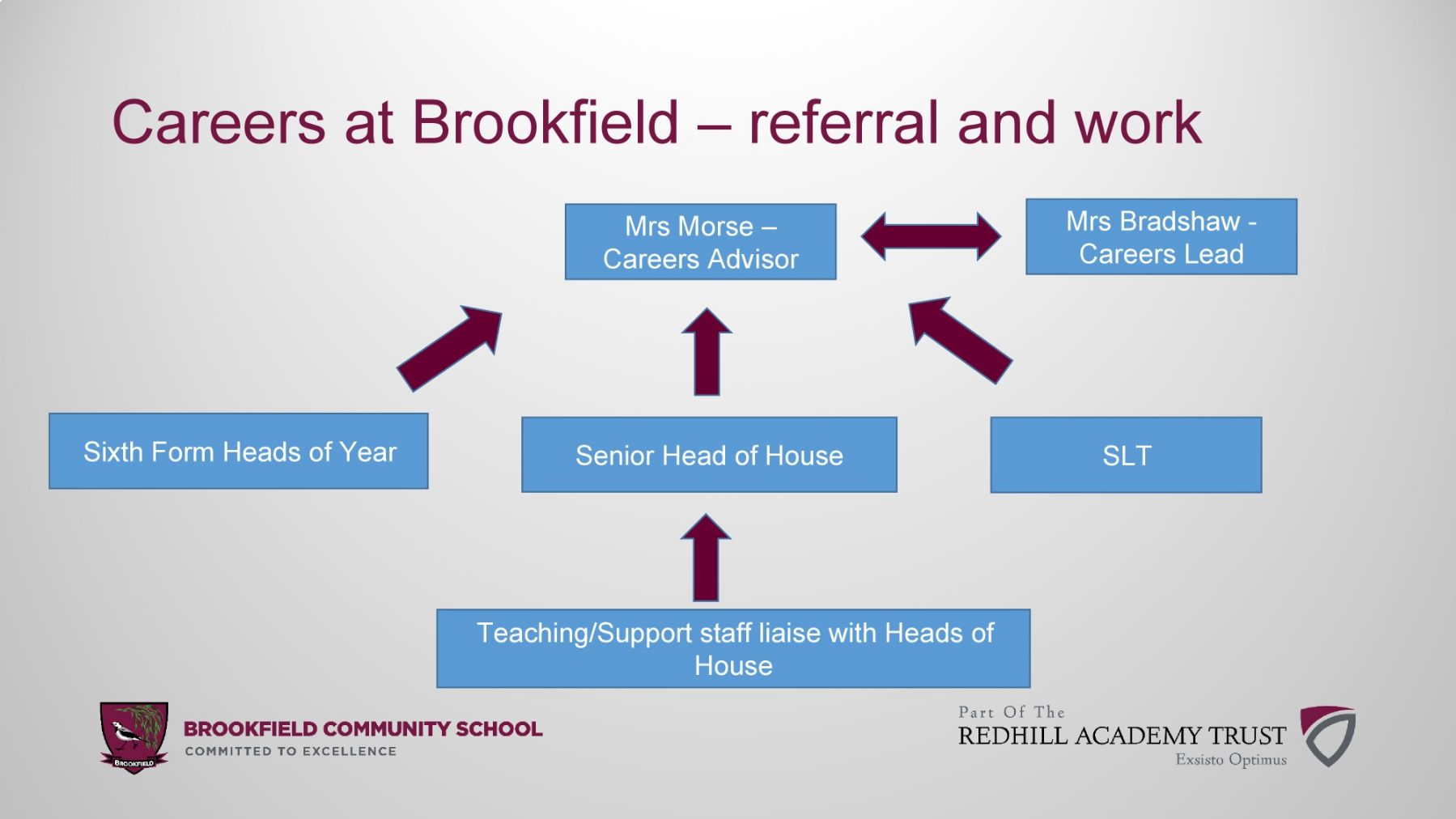 Post 14: KS3-KS4 Transition (Year 9 Options)
Students are supported in making their GCSE option choices through:
Assemblies
Relevant literature and software use
1:1 Guidance
Y9 Guided Choices booklet 2022 - 2024
Y9 Parents' Evening
Y9 Guided Choices Evening
Taster Sessions for off-site courses
Post 16: KS4 - KS5 Transition (Year 11 options)
The end of Year 10 and into Year 11 is an important time for our students. We provide them with the support they need to make informed, appropriate choices about their futures as they progress though to the next stage of their education or training. These are some of the ways we will be providing support to your son/daughter over the next year.
Students are provided with information about all Post 16 routes available to them.
Students are given guidance in how to find careers information in and out of school.
Students are encouraged to attend Open Evenings/Days/Taster sessions
Students have access to support from our Careers Adviser, Mrs Morse.
Students and parents are invited to the Post 16 Opportunities Evening and the Brookfield Sixth Form Information Evening.
The Parents Evening provides the opportunity to discuss Post 16 choices in relation to academic progress.
Students are supported with their applications and interviews. We recommend that all students consider a back-up plan to their main choice.
Post 18: What next after KS5? (Year 13 Options)
We hold an evening specifically for parents of Y12 students at the end of June, informing them about our Higher Education programme and looking at how they might help you in the process. On this evening we give out a help booklet for parents, giving information and advice on student finance. Visit the KS5 Section of the website for further support. Students are involved in a programme which supports then through their transition from Brookfield to Higher Education, Further Education, Employment or Training.
Guidance on Working Regulations for students aged 13 and older
UCAS help for parents
Not Going to Uni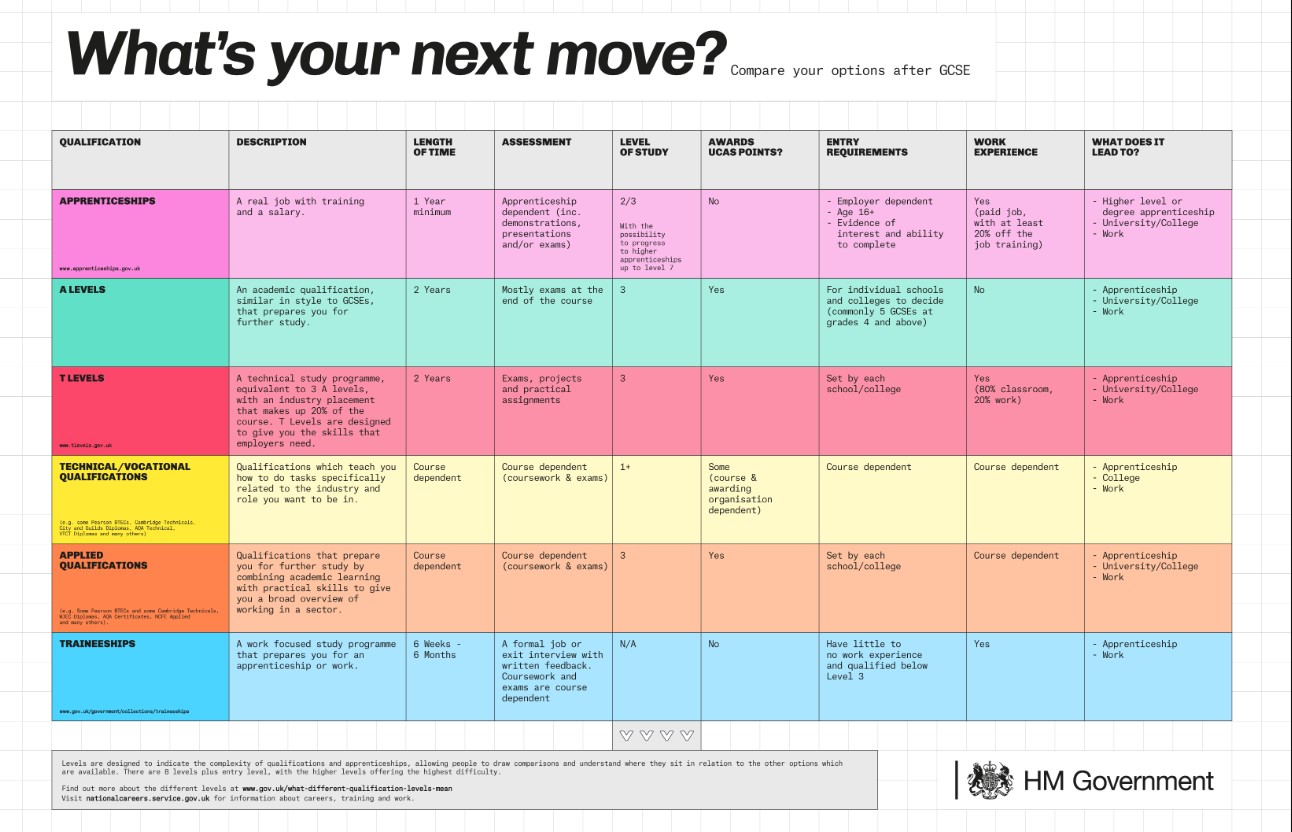 Tech Levels (T Levels) are full time courses at college offering level 3 qualifications for students aged 16 plus which develop specialist knowledge and skills to help get an apprenticeship or job, for example in engineering, IT, accounting or professional cookery, or to progress to a higher level qualification. T Level programmes will, on average, consist of 1800 hours over two years. They will follow the same broad framework and will consist of five components:
A technical qualification.
A work placement with an employer (minimum 45 days).
Maths, English and digital requirements.
Any other occupation-specific requirements/qualifications (e.g. a licence to practise).
Any further employability, enrichment and pastoral provision.
More information can be found in the video below: