'Good Careers Guide' Gatsby Benchmarks
The Gatsby Benchmarks are referred to everywhere in the careers world, but what are they, where have they come from and what do they mean?
The Gatsby Benchmarks are extremely topical at present having been explicitly referenced throughout the DfE's Careers Strategy (December 2017) and the new Statuary Guidance for careers (January 2018). They have actually been around since 2013, here we provide a summary of the benchmarks exploring what they are, how they affect schools and are they any good!
The Gatsby Benchmarks originated in a research report (Good Career Guidance) from the Gatsby Foundation in 2013. The report was commissioned by Lord Sainsbury and Sir John Holman was appointed to lead a research team to focus on international evidence for 'what works' in career development.
The report found 8 benchmarks of the best practise, which are now more commonly known as 'The Gatsby Benchmarks.' They are:
A stable careers programme
Learning from career and labour market information
Addressing the needs of each pupil
Linking curriculum learning to careers
Encounters with employers and employees
Experiences of workplaces
Encounters with further and higher education
Personal guidance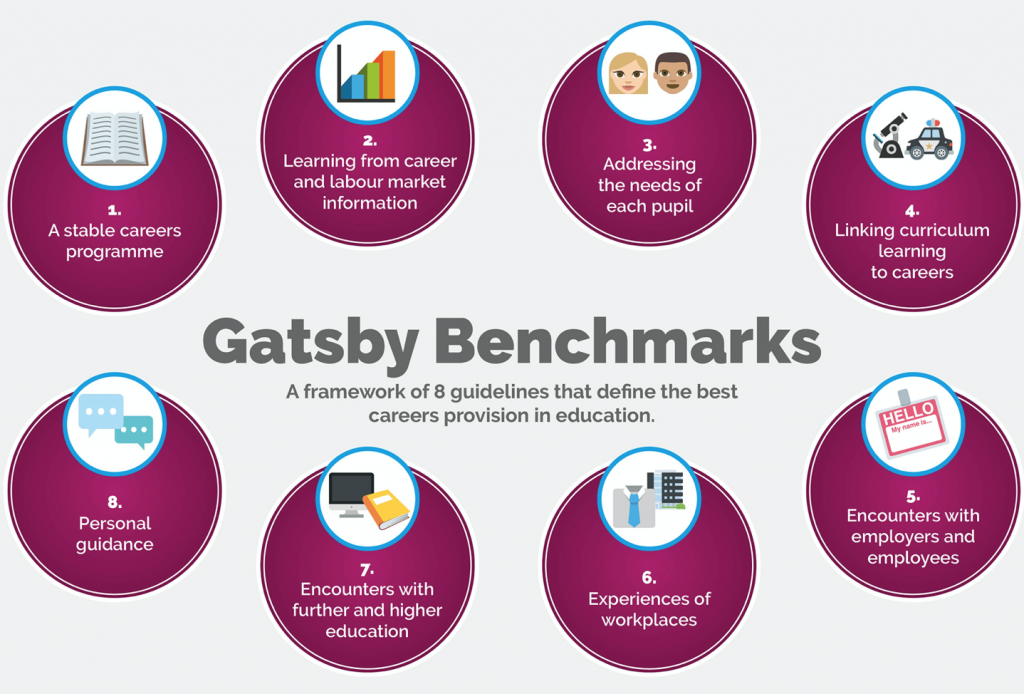 If you would like to find out more details from the Gatsby Report on Good Career Guidance, please click here www.gatsby.org.uk/uploads/education/reports/pdf/gatsby-sir-john-holman-good-career-guidance-2014.pdf
The most recent figures from Brookfield Community School (April 2022) are shown below:
What's the Point? - YouTube videos
A selection of careers related videos to help students explore different careers across the curriculum that are linked to the Gatsby Benchmark 4 can be found HERE