What next... KS3 Students
Y9 Guided Choices Process
Preparation begins in Form Time with options assemblies
Guided Choices Evening
Guided Choices' booklet sent home
Y9 Parents' Evening
Into the Future
When you finish your GCSE studies in Year 11, your Post 16 options are as follows:
Sixth Form to study A Levels (Level 3)
A local college to study A Levels, Btecs or T Levels (Level 1, 2 or 3)
Apprenticeship, where you earn to learn with a company and study for a related qualification either in the work place, or with some time in a local college or training centre (Level delete 1, 2 or 3 and add on 4 and above)
Traineeships where you develop your functional skills further and gain work experience and employability skills (Pre-entry Level/Entry Level)
Careers Support
At Brookfield, we offer a tiered system of careers support starting with our students talking to their Form Tutor or teaching staff about future opportunities prior to any referral being made to Rachel Morse, Careers and Guidance Officer. The diagram below shows which members of staff at Brookfield can help to support our students with their future options: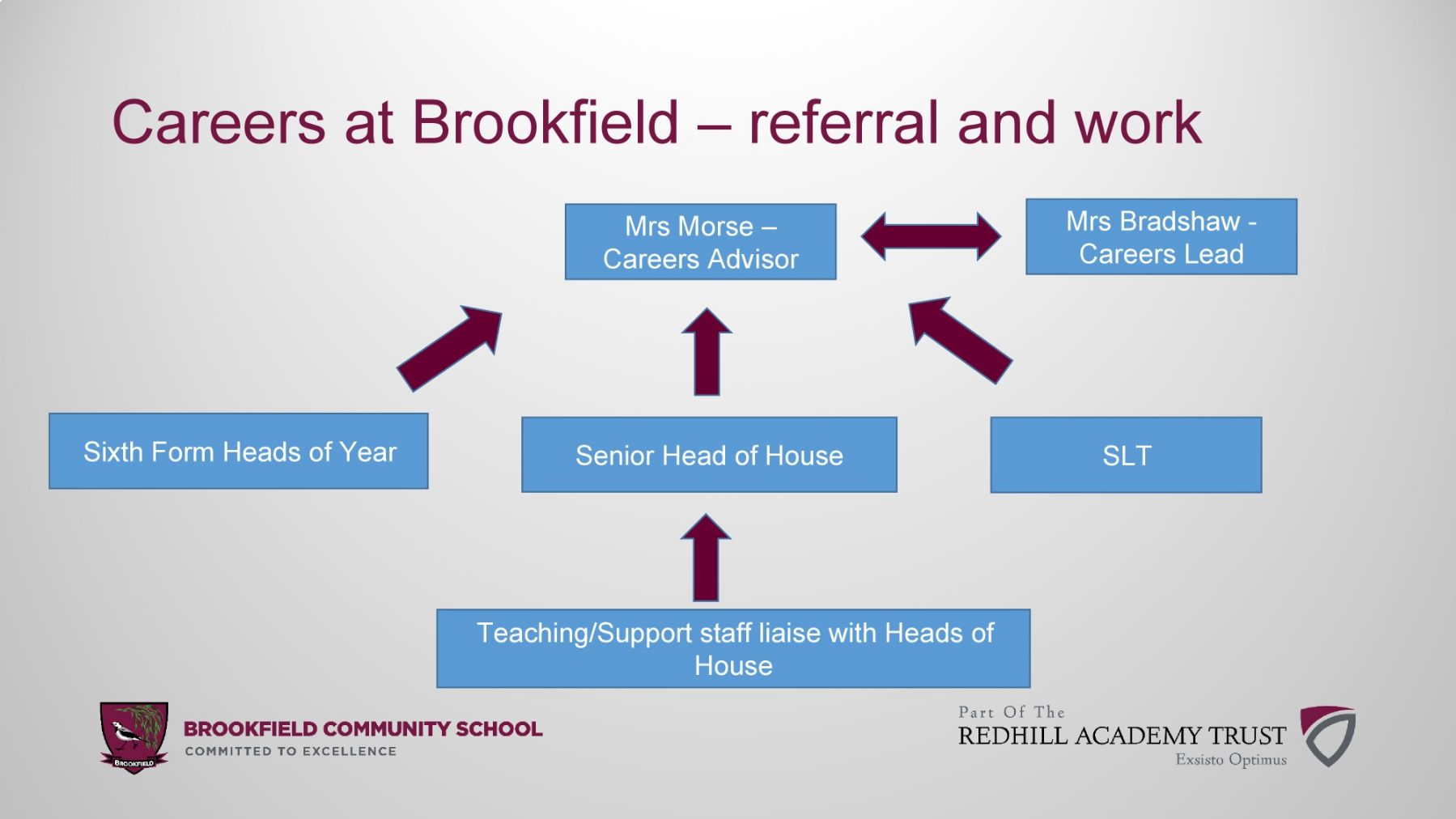 ---
To explore in more detail 'What's Your Next Move?' please click HERE for an explanation of the different levels shown below:

Tech Levels (T Levels) are full time courses at college offering level 3 qualifications for students aged 16 plus which develop specialist knowledge and skills to help get an apprenticeship or job, for example in engineering, IT, accounting or professional cookery, or to progress to a higher level qualification. T Level programmes will, on average, consist of 1800 hours over two years. They will follow the same broad framework and will consist of five components:
A technical qualification.
A work placement with an employer (minimum 45 days).
Maths, English and digital requirements.
Any other occupation-specific requirements/qualifications (e.g. a licence to practise).
Any further employability, enrichment and pastoral provision.
More information can be found in the video below:
---
Online Resources
HEPP Resources
Subject Specific Links