What next... KS4 Students
Key Stage 4 is a crucial time for you! It's a time to research and examine options, and to make informed decisions not just about routes at the end of Year 11 but also for the future - at 17, 18 and beyond into your adult working life. The Government has legislated that all young people must be in some form of education or training until they are 18.
Thinking of University?
Informed Choices, produced in collaboration with the Institute of Career Guidance, is aimed at all students considering A-level and equivalent options. It includes advice on the best subject combinations for a wide range of university courses as well as advice on the best choices if you don't know what you want to study after school and need to keep your options open.
Work Experience
Work Experience is a vital opportunity for students to experience and develop employability skills. All Year 10 students will take part in one week's Work Experience during the summer term. We strongly advise that students organise a placement early (start researching possible places at the end of Year 9) to ensure that they secure a placement within an area that is of genuine interest to them. This will either help confirm to the student that this is an occupational area that they might enjoy working in or will help them realise that actually this pathway is perhaps not best for them. Please note, in some cases students will be competing with students from other schools for a placement.
What Happens In Year 10?
Work Experience
All Year 10 students at Brookfield will undertake a one-week work experience programme. Students can choose from a list of approved employers arranged through school or they can arrange their own placements. The Work Experience Co-ordinator is on hand to help students find their ideal work experience placement. Despite our best efforts, it may be difficult to get enough employers to offer enough placements for all Year 10 students. Students who find their own placement tend to feel more relaxed and reassured before they start their work placement, as they have had greater involvement in the organisation and choosing.
Derbyshire database:
http://derbyshire.work-experience.co.uk
Students will receive their own unique username and password to access this system where they will be able to search for placements that have been approved to take students in past years using different search criteria; distance from home, job type etc. We cannot guarantee that all the contact and placement details for these placements are correct as they can vary from what was originally submitted. It may be best to speak to your Head of House or Mrs Myers, the work experience co-ordinator if you have any further queries about work experience.
What Happens In Year 11?
Choices Post 16

Sixth Form
College
Our most local colleges include Chesterfield College, Sheffield College, Derby College, Buxton College and West Notts College. See Resources for dates of Open Events.
Apprenticeships
Work Based Training
Apprenticeships combine practical training in a job with part-time study for a related qualification
Available at various levels and Y11 will usually start at Level 2 (Intermediate) or Level 3 (Advanced).
For more details please visit https://www.apprenticeships.gov.uk/ and www.gov.uk/apply-apprenticeship
If you're looking for an apprenticeship, and would like some advice, please click here
Careers, Sixth form, College and Apprenticeship Information
Remember you can apply for lots of options and make final choices in the summer. For more help please talk to your form tutor, Rachel Morse, Careers and Guidance Officer and family and friends. Good luck with your career planning.
Careers Information
At Brookfield, we offer a tiered system of careers support starting with our students talking to their Form Tutor or teaching staff about future opportunities prior to any referral being made to Rachel Morse, Careers and Guidance Officer. The diagram below shows which members of staff at Brookfield can help to support our students with their future options: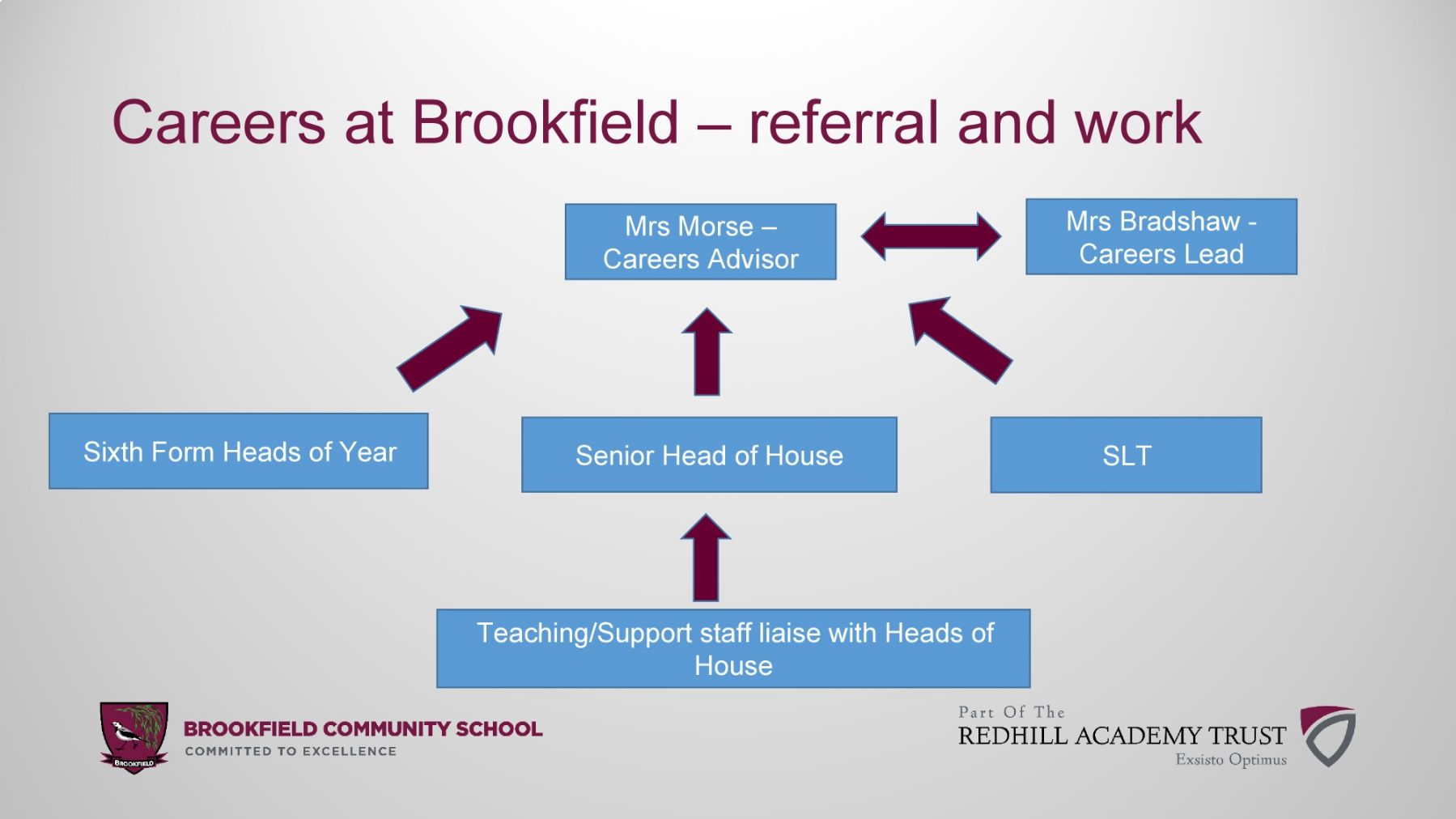 If you have a career idea, use the Explore Careers sections on National Careers Service and the I Could websites. If you aren't sure what you'd like to do, take the Buzz Quiz as this will give you some ideas. Also, talk to your family and friends about your ideas as they, or people they know, may be able to help.
Brookfield Sixth Form
If you applied by our closing date you should now have received a Conditional Offer. If you haven't applied already you need to apply via the Sixth Form section of the Brookfield website as soon as possible or follow this link.
College courses
Many courses have a career link e.g. Beauty, IT, Construction, Sport and are offered at different levels depending on the career area from Entry (pre GCSE) to Level 3 (e.g. A levels, BTEC Extended Diplomas, NVQs). GCSE grades needed vary between courses/ subject areas. Many course areas will be offered by lots of colleges but there are a few career areas only offered by a limited number of colleges e.g. Animal Care is only offered by Derby, Sheffield and West Notts. Course details are on the colleges' websites.
Local colleges include Buxton and Leek, Chesterfield College, Derby College, Sheffield College and West Notts College (Mansfield). Please check their websites for upcoming Careers Events as booking may be necessary through the college's website.
What to do now if you haven't applied yet. Explore courses and apply online this term for 1 or 2 courses at one or more colleges, although there aren't any closing dates. The colleges are usually offering telephone interviews at present and then making conditional offers for places. As the colleges offer courses at different levels they will usually offer a conditional 1st level and a backup lower level course. If you need any help please contact the college(s) and/or Rachel Morse.
What to do if you have already applied. You should have heard about your interview (s) /conditional offer of a place(s) but if not contact the college(s). If you need any help please contact the college(s) and/or Rachel Morse.
Apprenticeships
These are a combination of work experience with an employer and study for a qualification either in the work place or at college or a training centre. They are offered at several levels starting at Intermediate Level 2 (GCSE level), Advanced Level 3 (A Level, Btec Extended Diploma level) and Higher and Degree Level 4 and above which link into part-time university level study. Apprenticeships are in specific career areas so check out the careers as well.
An employer can organise their apprenticeship but many work in combination with a training provider. The training provider can be a private training organisational or apprenticeship team within a college or university. Vacancies are often competitive so apply for lots. Have a back-up plan just in case you don't manage to secure an apprenticeship.
These events are coming up but there will be more with these and other organisers:
Buxton & Leek College Apprenticeship Open Days - more details can be found at https://www.blc.ac.uk/apprenticeships/
Chesterfield College Learning Unlimited Open Days - more details can be found at https://www.learningunlimiteduk.com/events/
Derby College Apprenticeship Open Days - more details can be found at https://www.derby-college.ac.uk/course-types/apprenticeships/
Sheffield College has details of all their apprenticeship opportunities on https://apprenticeships.sheffcol.ac.uk/
West Notts College Apprenticeship Open Days - more details can be found at https://www.wnc.ac.uk/apprenticeships/
If you are interested in exploring Apprenticeship Opportunities please check out details and register for vacancies at https://www.apprenticeships.gov.uk/ and https://www.gov.uk/apply-apprenticeship. Also contact companies direct to ask about vacancies and talk to family/ friends as they may know people who can help. If you need any support from school, please contact Rachel Morse.
If you are considering Apprenticeships you can also explore Traineeships and Study programmes as possible backups to develop your experience and skills.
Traineeships
These are short periods of work experience with an employer and can last from 6 weeks up to six months. They may also include English and maths support (if required/needed). You can search for Traineeships here.
Study Programmes
These focus on developing personal skills/ confidence, employability skills, English, Maths and include work experience. They last from 6 months to a year. Please contact Rachel Morse for more details.
What skills do you have?
The skills' assessment on the National Careers Service could help you to consider what skills you have and might want/ need to develop.
---
---
To explore in more detail 'What's Your Next Move?' please click here for an explanation of the different levels shown below:

Tech Levels (T Levels) are full time courses at college offering level 3 qualifications for students aged 16 plus which develop specialist knowledge and skills to help get an apprenticeship or job, for example in engineering, IT, accounting or professional cookery, or to progress to a higher level qualification. T Level programmes will, on average, consist of 1800 hours over two years. They will follow the same broad framework and will consist of five components:
A technical qualification.
A work placement with an employer (minimum 45 days).
Maths, English and digital requirements.
Any other occupation-specific requirements/qualifications (e.g. a licence to practise).
Any further employability, enrichment and pastoral provision.
More information can be found in the video below:
---
Resources
Subject Specific Links
HEPP Resources