PE
Click image to see full size.
---
Introduction to PE
The Physical Education department at Brookfield Community School believes in the power of physical activity and sport to improve students' physical and mental health and well-being, develop personal characteristics and qualities and improve life chances and career opportunities. Throughout Key Stages 3, 4 and 5 students will participate in a range of different sporting activities to develop the knowledge, understanding and skills needed to lead an active, healthy lifestyle both whilst at school and in their future lives. Students will also have the opportunity to participate in a wide range of co-curricular activities aimed at further developing their knowledge, skills and understanding of the subject and give them opportunities to participate in sporting activities and competitions inside and outside of school. Students will also have the opportunity to gain nationally recognised qualifications in physical education and sport at Key Stages 4 and 5.
Key Stage 3
In Key Stage 3, all students at Brookfield Community School are taught two hours of Physical Education per week. Lessons are taught in single sex teaching groups. Students are taught five units of work over the course of each academic year. Students are taught a variety of physical activities and sports over key stage 3 with the aim of giving every student a broad and balanced curriculum that will enable them to find success in the subject.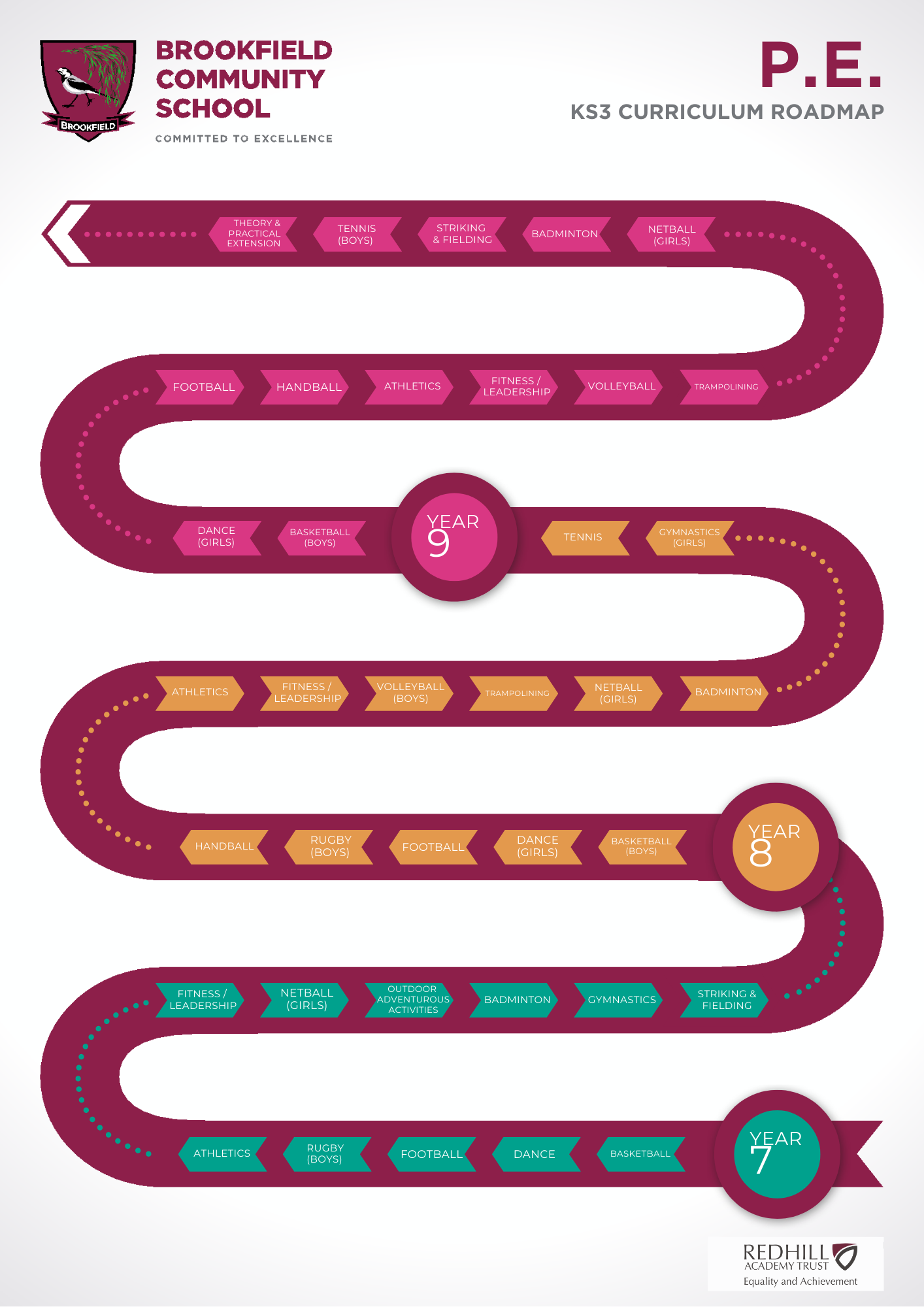 Key Stage 4
GCSE PE
Exam Board: AQA
The Course
Section 1 – The human body and movement in physical activity and sport (Anatomy and physiology, movement analysis and physical training).
Section 2 – Socio-cultural influences and well-being in physical activity and sport (Sports psychology, socio-cultural influences, health, fitness and well-being)
Section 3 – Non Examined Assessment (Practical performance in physical activity and sport, analysis and evaluation of performance)
How are students assessed?
Students will sit 1 hour 15 minute exam papers in section 1 and section 2 at the end of year 11. They will also be assessed in 3 practical activities and complete 1 piece of coursework.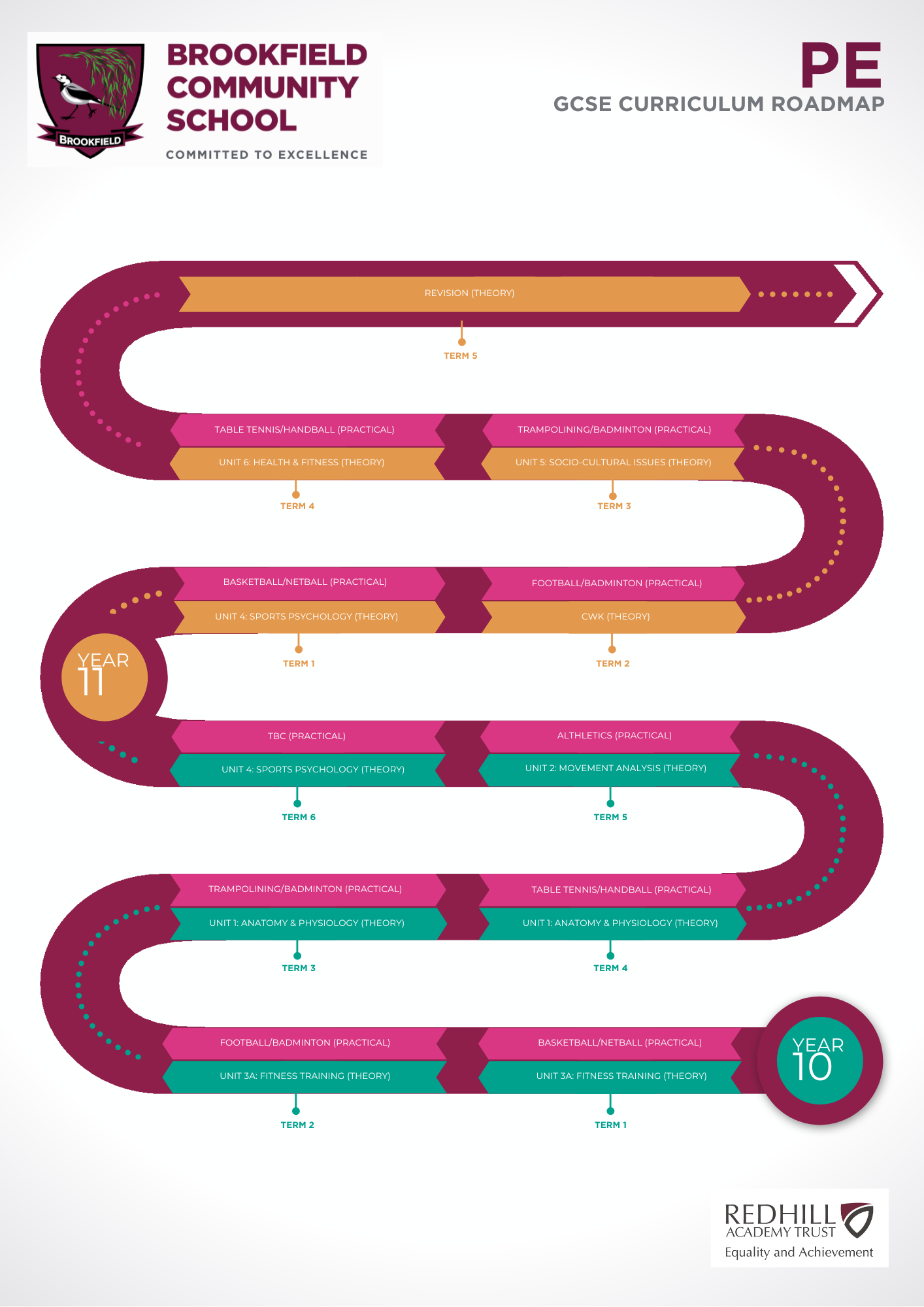 ---
Level 1 & 2 Vocational Award in Sport and Coaching Principles
Exam Board: WJEC
The Course
Unit 1 - Improving Sports Performance
Unit 2 - Fitness for Sport
Unit 3 - Coaching Principles
How are students assessed?
Unit 1 and Unit 3 are assessed through coursework completed during Year 10 and Year 11. Unit 2 is assessed by an exam completed at the end of Year 10. The exam can be retaken at the end of Year 11.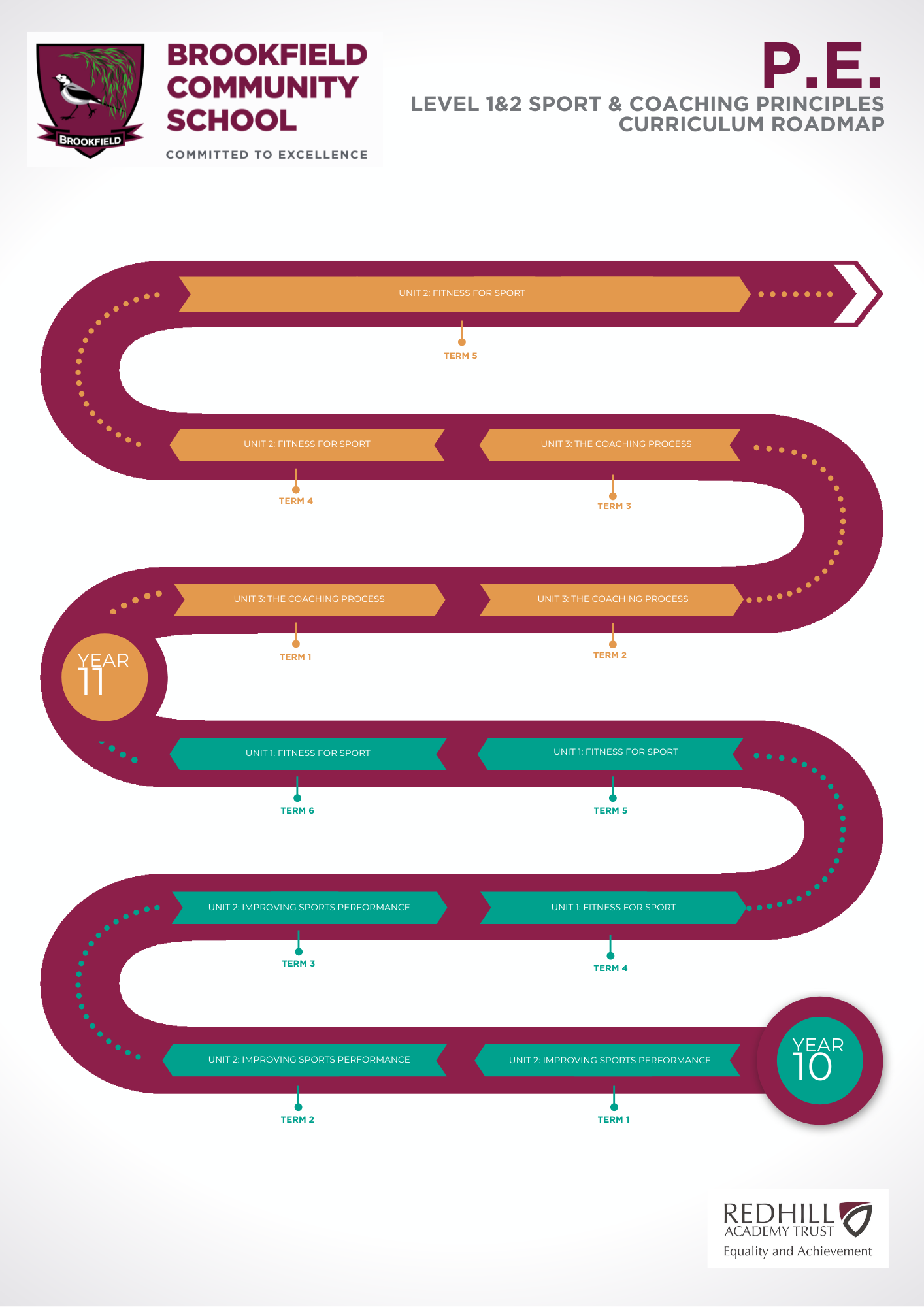 Key Stage 5
A Level PE
Exam Board: OCR
The Course
Unit 1 – Physiological factors affecting performance (Applied anatomy and physiology, Exercise Physiology and Biomechanics)
Unit 2 – Psychological factors affecting performance (Skill acquisition and Sports psychology)
Unit 3 – Socio-cultural issues in physical activity and sport (Sport and society, Contemporary issues in physical activity and sport
Unit 4 - Performance in physical education (Performance and coaching, Evaluation and analysis of performance for improvement)
How are students assessed?
Unit 1, 2 and 3 are assessed through 3 exams at the end of Year 13.
Unit 4 is assessed through performance or coaching in one physical activity and through the completion of a verbal coursework task.
Enrichment
Students at Brookfield Community School have a wide variety of co-curricular opportunities in the Physical Education department. Clubs are available to students at lunchtimes and after school in a wide variety of activities, such as football, basketball, dance, trampolining, rounders and many more. Students can represent their form in inter-form competitions and represent Brookfield in interschool competitions. There are opportunities for students to develop their leadership skills and gain leadership qualifications across all Key Stages. There are also opportunities for students to work within the department as part of the Year 12 Stellar Enrichment Programme.
Progression Opportunities
Students who complete a Key Stage 4 qualification in physical education will have the opportunity to progress onto A Level PE or a vocational qualification at Key Stage 5.
Students who complete A Level PE at Brookfield will be able to progress onto a variety of Higher Education courses related to physical activity and sport.
Students who gain sports leadership qualifications during their time Brookfield will be able to progress onto further sports leadership or coaching qualification and into a variety of coaching roles within the sports industry.
Students who participate regularly in physical education lessons will build employability skills needed for a wide variety of careers both in and out of the sports industry.