Geography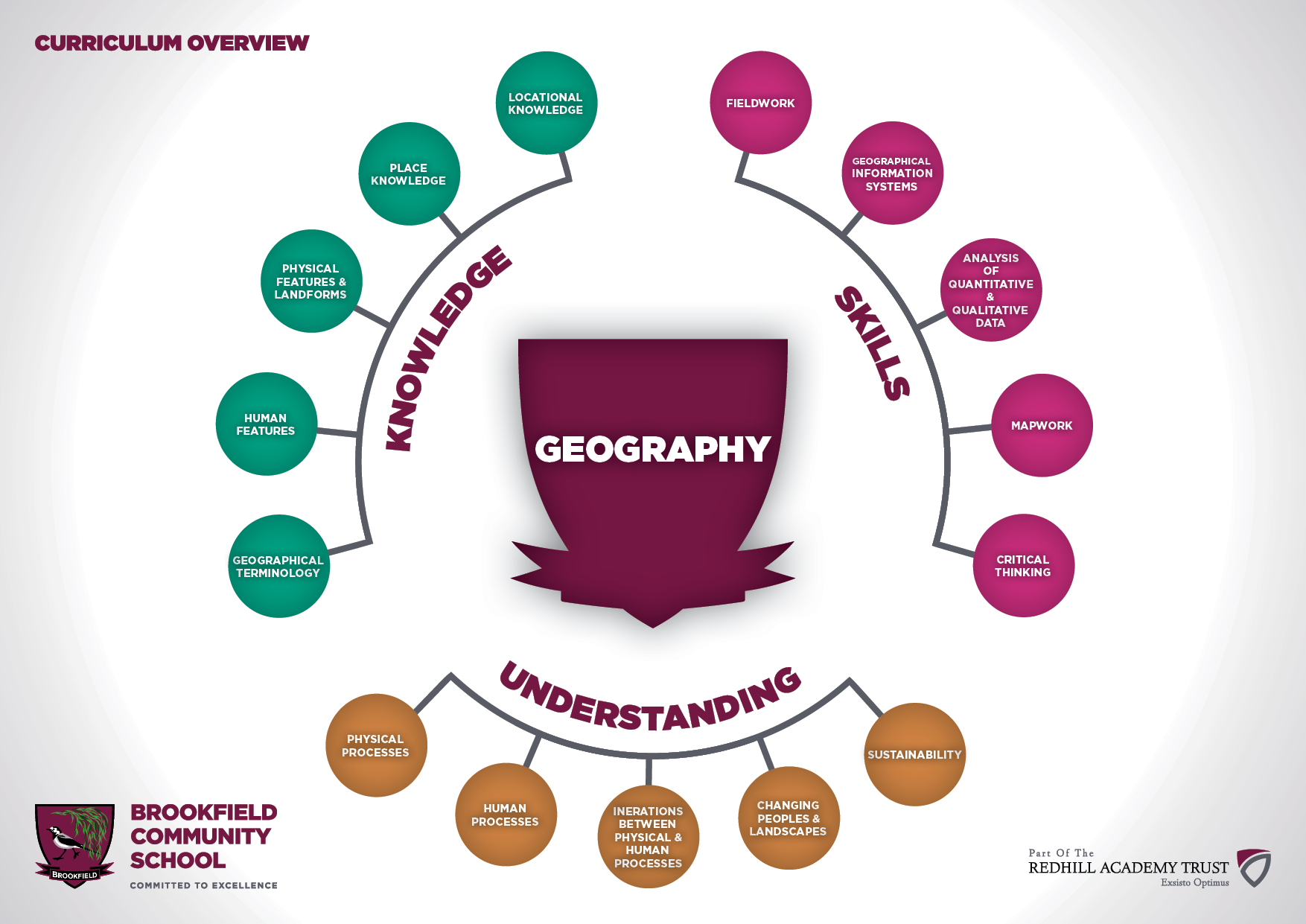 Click the image to view full size.
---
Introduction to Geography
'Geography prepares young people with the knowledge, skills and understanding to make sense of their world and to face the challenges that will shape our societies and environments at the local, national and global scales' (Dr Rita Gardner, Director, RGS-IBG).
Through dynamic and engaging lessons, along with a range of fieldwork opportunities, we encourage students to become knowledgeable, balanced and empathetic citizens of their community and the wider world. Our curriculum ensures that students gain the requisite knowledge of physical and human geographical processes so that they are able to think critically, and offer sustainable solutions to local and global challenges.
Key Stage 3
In Key Stage 3 students are taught for 2 lessons a week in form groups.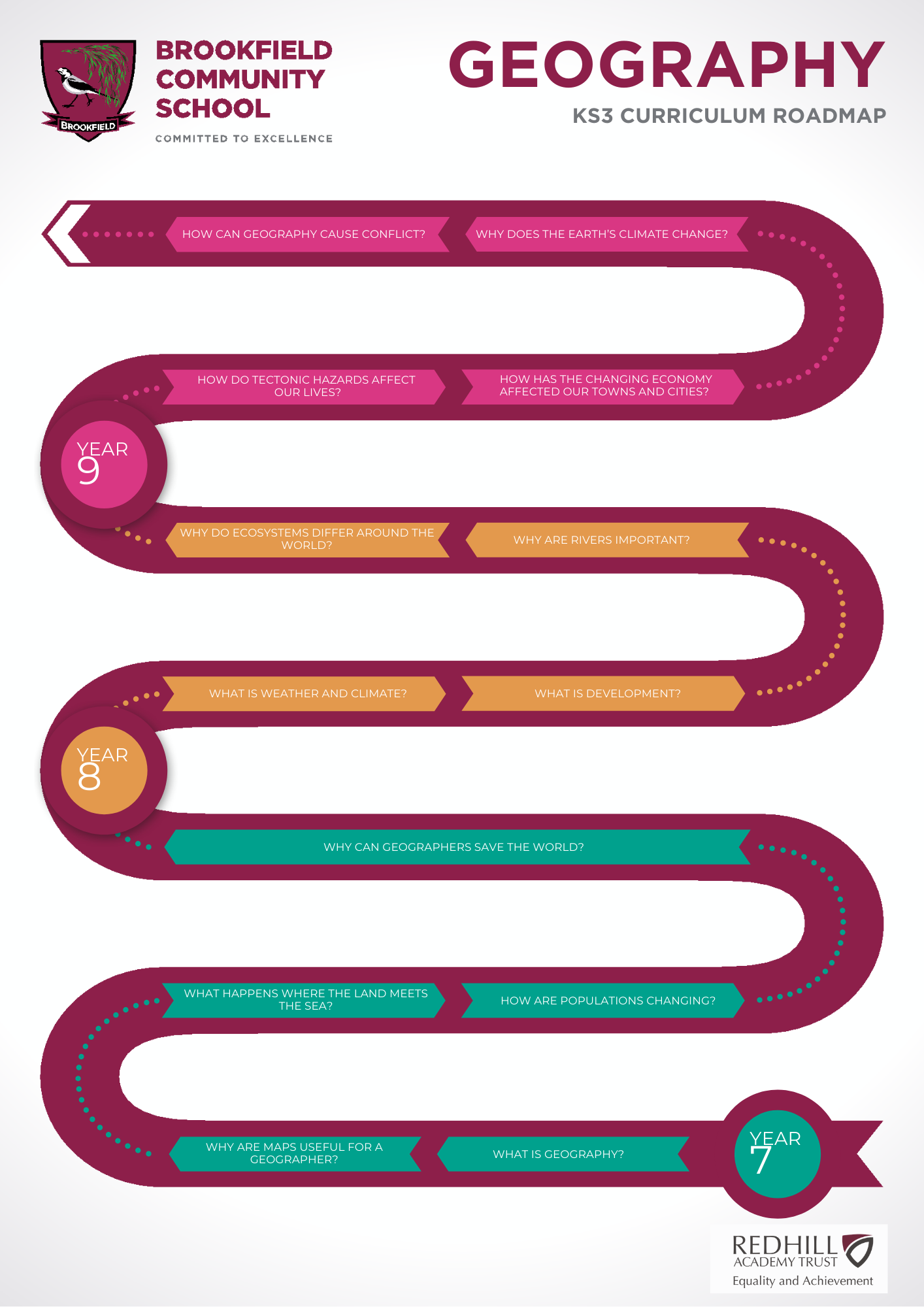 Key Stage 4
GCSE Geography
Exam Board: EDUQAS B
The Course
The course provides coverage of physical, environmental and human aspects of the subject and the links that exist between them.
The content of the specification is organised into three broad themes:
Theme 1: Changing Places - Changing Economies
Theme 2: Changing Environments
Theme 3: Environmental Challenges
Key topics include urban change, development, river processes and management, coastal processes and management, extreme weather, ecosystems, climate change and desertification.
How are students assessed?
Students will be assessed through three written examination papers.
The first examination will assess knowledge and understanding of the three themes outlined above.
The second examination will ask students to complete a geographical problem-solving exercise.
The third examination will test the students understanding of the fieldwork exercises that they have completed over the course.
Key Stage 5
A Level Geography
Exam Board: EDUQAS
The Course
The WJEC Eduqas A Level Geography specification encourages learners to apply geographical knowledge, theory and skills to the world around them. In turn this will enable learners to develop a critical understanding of the world's people, places and environments in the 21st century. Learners should be able to develop both knowledge and understanding of contemporary geographical concepts together with transferable skills that will enable learners to progress to higher education and a range of employment opportunities.
Learners will deepen their knowledge and understanding about physical geography topics such as rivers, coasts and tectonic hazards along with human geography topics such as urban change, migration, energy security and development. Learners will develop fieldwork and independent research skills through the completion of a non-examined assessment.
How are students assessed?
There are four components in total; three of these are examinations whereas one is a 4000 word non-examined assessment.
Component 1: Changing Landscapes and Changing Places
Written examination: 1 hour 45 minutes.
20.5% of qualification
Component 2: Global Systems and Global Governance
Written examination: 2 hours
27.5% of qualification
Component 3: Contemporary Themes in Geography (Tectonics, China in the modern world and energy security)
Written examination: 2 hours 15 minutes
32% of qualification
Component 4: Independent Investigation
Non-exam assessment: 3000 to 4000 words
20% of qualification.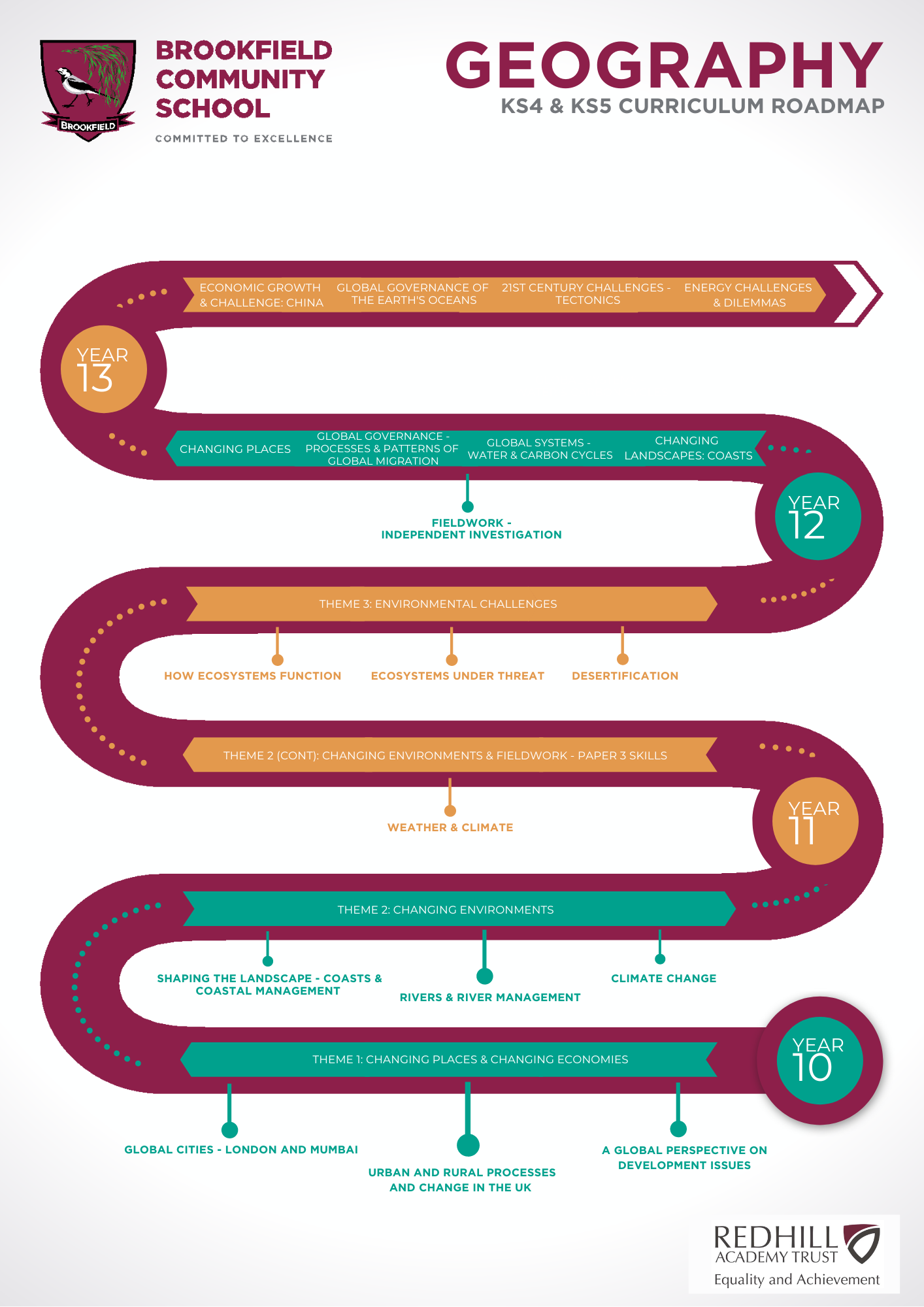 Enrichment
The department runs a range of fieldwork opportunities at every key stage, from local day trips to international residential trips as far afield as Iceland. All A Level students go on a 4-day residential field trip to complete their independent investigation. This could be anywhere in the UK, but recently we have taken groups to the Lake District, the East Coast and Snowdonia.
Progression Opportunities
The range of issues studied and skills developed are highly appropriate for many careers. They are especially relevant to careers in journalism, business, travel and tourism, urban and rural planning, environmental management, surveying and teaching. Many students go on to study the subject at A Level, and it combines well with both science and arts subjects. The subject is also equally useful as a foundation for a range of vocational courses.