English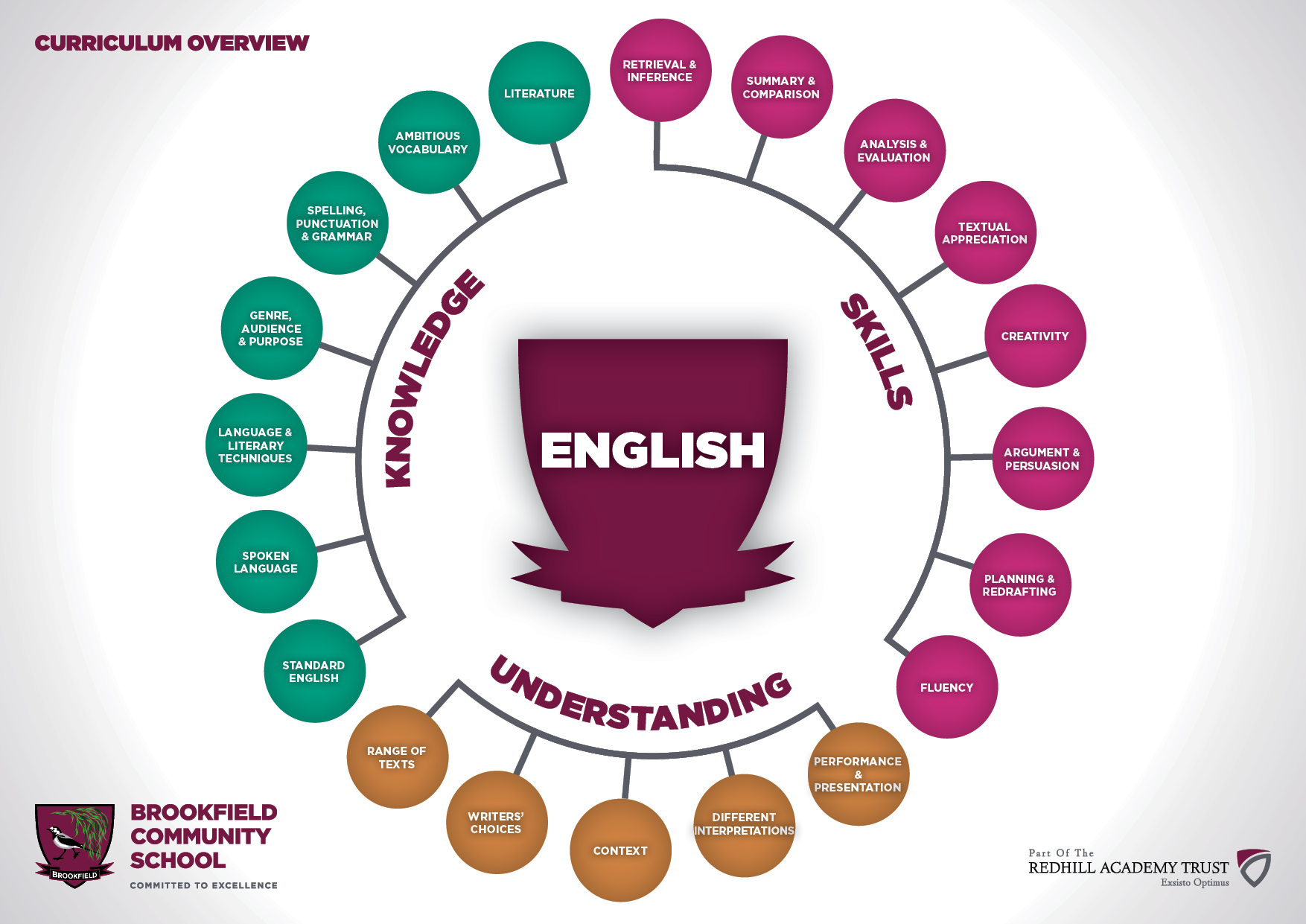 Click the image to view full size.
---
Introduction to English
We are an enthusiastic team of specialist English teachers with a range of experience and expertise. Our primary concern is to work together to provide the best possible learning experiences for all of our students. We aim to inspire in our learners a love of language in all its forms - what they read, what they write and how they communicate – to nurture an appreciation for English language and literature and to cultivate its effective use in creative expression and everyday life. We strive to ensure that our curriculum offers a rich and diverse range of learning opportunities through the delivery of the following courses:
National Curriculum English lessons
AQA GCSE English Language & GCSE English Literature
AQA (B) A level English Language & A level English Literature.
Key Stage 3
We offer a broad and stimulating programme of study which will capture students' enthusiasm for English whilst at the same time fulfilling the demands of the new National Curriculum (September 2014). The set programmes of study ensure that students follow a varied programme of speaking, listening, reading and writing and that all students complete common assessment tasks. All KS3 classes are taught for 4 hours per week.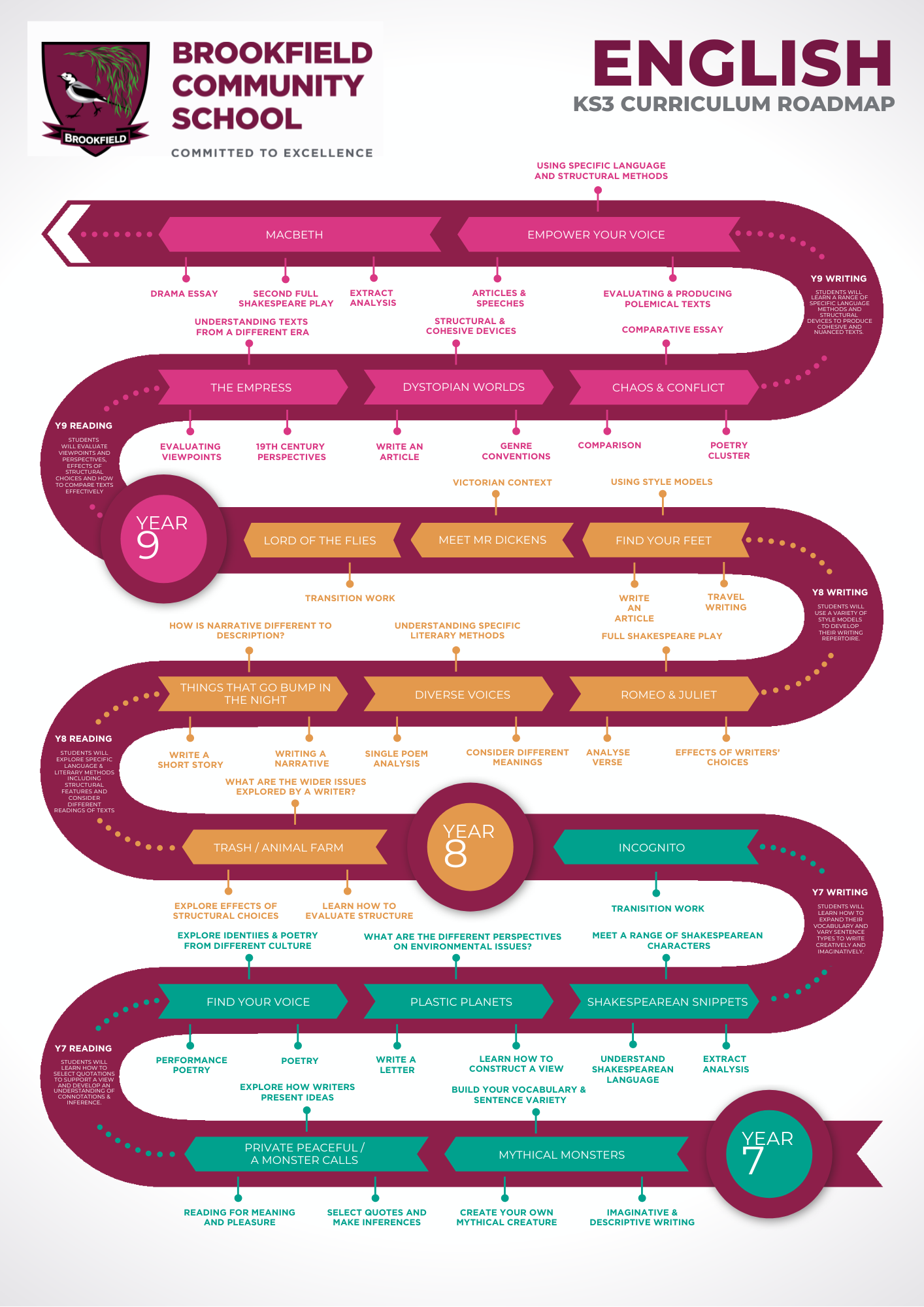 Key Stage 4
GCSE English Language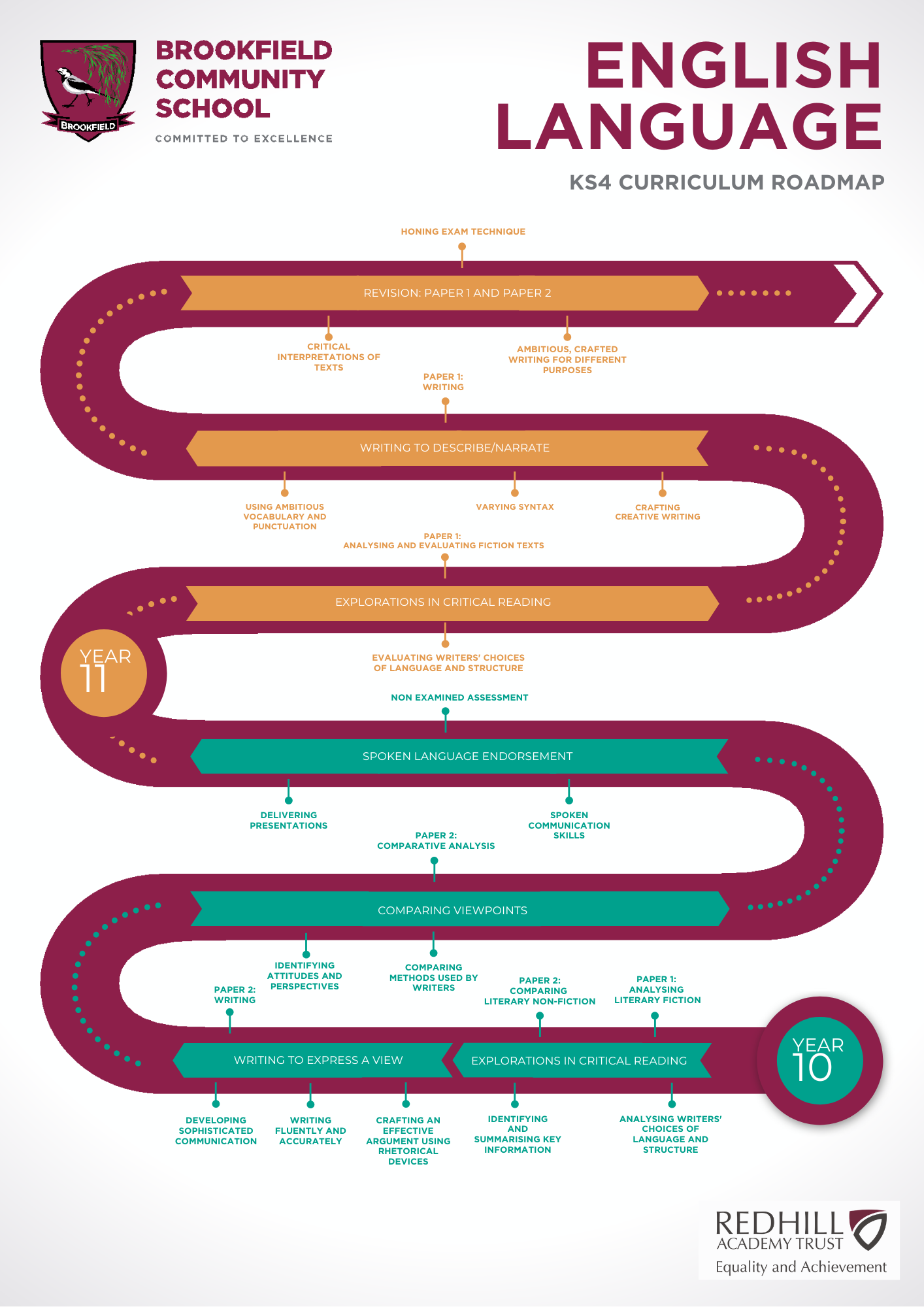 GCSE English Literature
Exam Board: AQA
The Course
The Key Stage 4 English Curriculum is designed to offer a broad and stimulating framework which will capture students' enthusiasm for English and fulfil the demands of the National Curriculum and AQA GCSE Specifications. The set curriculum structure ensures that students follow a varied programme of reading, writing and spoken language activities and that all students are able to complete the GCSE examinations.
The programme of study covers the following knowledge, understanding & skills:
Studying a Shakespeare play
Studying a 19th century novel
Studying a modern play
Studying a collection of poetry
Responding to unseen poetry
Responding to unseen non-fiction from the 19th & 21st century
Responding to unseen fiction extracts from the 20th century
Writing for a range of audiences and purposes
Speaking and Listening.
How are students assessed?
All students will take 4 English examinations at the end of Y11. Students will take mock exams in preparation for these assessments at different points in the year.
The 4 exams are as follows:
English Language Paper 1: Explorations in creative reading and writing
English Language Paper 2: Writers' viewpoints and perspectives
English Literature Paper 1: Shakespeare & the 19th century novel
English Literature Paper 2: Modern Texts & Poetry.
Students have five hours of English a week. In Y10 & Y11, we follow an integrated approach in the teaching of GCSE English Language & English Literature. The course structure is designed to encourage students to appreciate the overlap that exists between both GCSEs.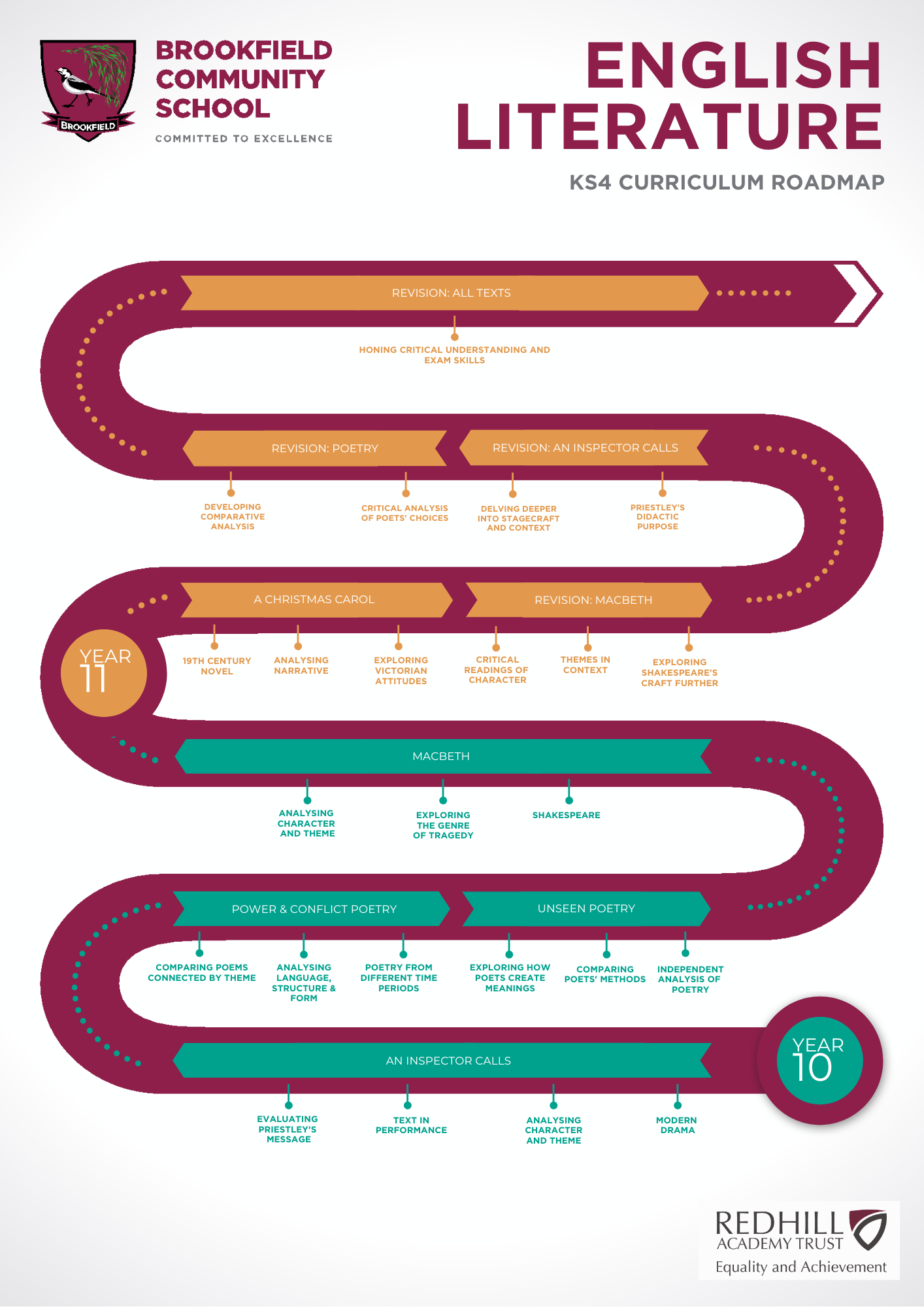 Key Stage 5
We teach two A-level examinations: AQA English Language and AQA English Literature Specification B.
A Level English Language
Exam Board: AQA
The Course
We examine how language is used for a variety of purposes: to persuade, inform and entertain. A wide range of written, spoken and electronic texts is studied throughout the course. Students have opportunities to write for different audiences such as young children, teenagers and adults. A wide range of theories of language will also be explored, such as how society influences language, how children learn to speak and what causes language to change. We also analyse a variety of spoken and written texts in detail in order to learn how they are constructed.
How are students assessed?
There are two exams (worth 80%) and a coursework component (worth 20%):
Paper 1: Language, the Individual and Society (2 hours 30 minutes, worth 40%)
The examination requires a detailed exploration of two items which are linked by theme or topic and then a comparison of the similarities and differences between them. A discursive essay is also completed about how children develop their spoken and written skills; there will be a choice of two questions based on spoken, written or multimodal language.
Paper 2: Language Diversity and Change (2 hours 30 minutes, worth 40%)
The examination consists of an evaluative essay on language diversity or language change, the analysis of two texts in order to show how they use language to present ideas, attitudes and opinions and a directed writing task linked to the same topic and the ideas in the texts.
Non-exam assessment: Language in Action (worth 20%)
The coursework element is composed of a language investigation (2,000 words excluding data) based on an individual area of interest and a piece of original writing with an accompanying commentary (1,500 words).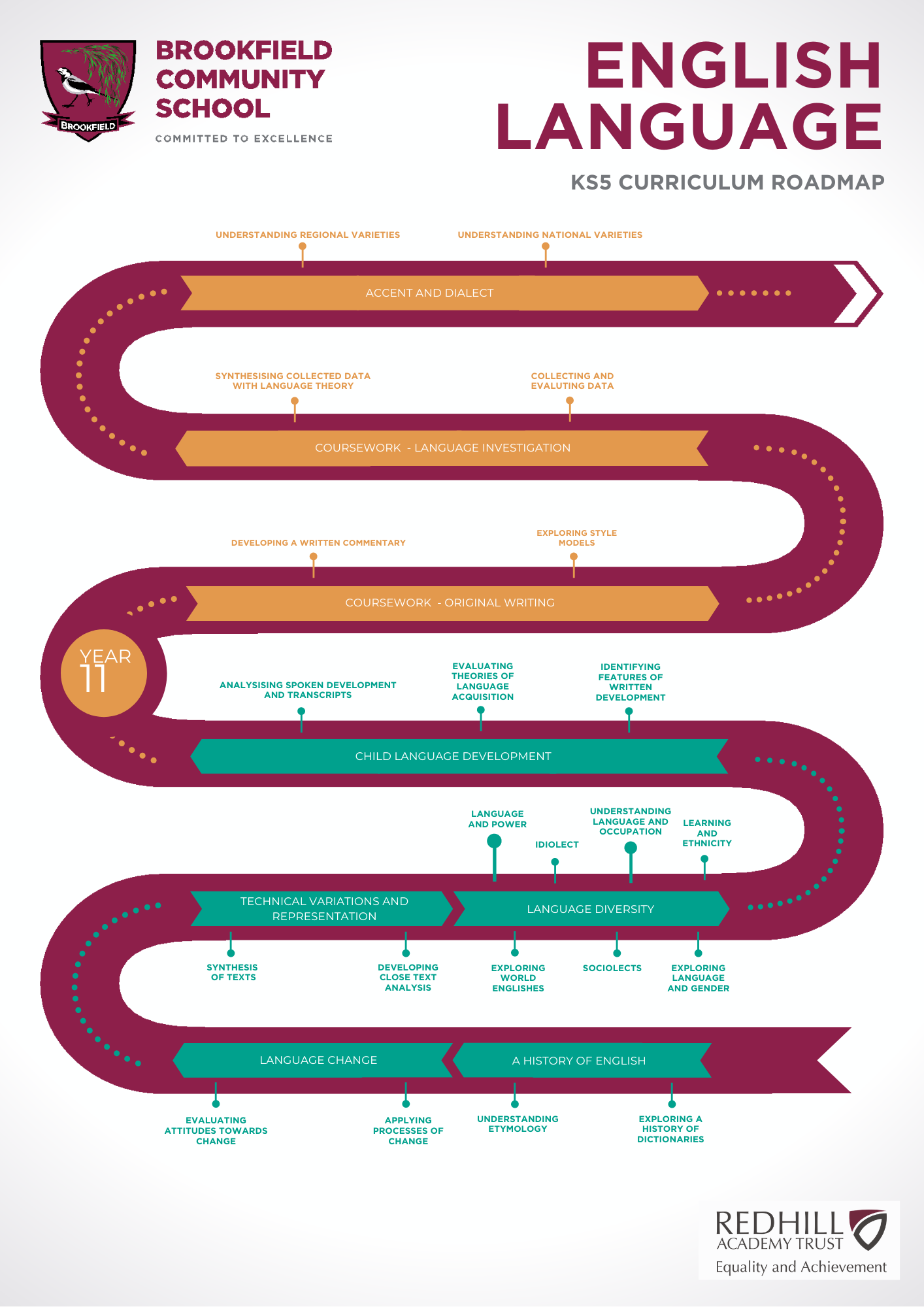 A Level English Literature
Exam Board: AQA
The Course
A range of literary texts is studied in depth, exploring specific genres and engaging with a number of theoretical ideas. There will be opportunities to write about texts in different ways and scope for pursuing areas of personal interest through the coursework component. Currently, our students explore the following texts for the examinations: 'Othello' by William Shakespeare, John Keats' poetry, 'Death of a Salesman' by Arthur Miller, 'The Handmaid's Tale' by Margaret Atwood, 'The Kite Runner' by Khaled Hosseini and 'The Songs of Innocence and Experience' by William Blake.
How are students assessed?
There are two exams (worth 80%) and a coursework component (worth 20%):
Paper 1: Literary Genres (2 hours 30 minutes, worth 40%)
Three texts are studied from the genre of tragedy: one Shakespeare text, a second drama text and one further text. The examination requires responses to two tasks based on the Shakespeare text and then a further essay in which the other two set texts are linked.
Paper 2: Texts and Genres (3 hours, worth 40%)
Literary texts taken from political and social protest writing are the focus of this paper. Three texts are studied: one post-2000 prose text, one poetry and one further text. The examination consists of one compulsory question on an unseen passage, one essay question about one of the set texts and one essay about the other two set texts that explores the connections between them.
Non-exam assessment: Theory and Independence (worth 20%)
In this component, two different literary texts are explored. One of the texts must be a poetry text and the other must be prose. The study of each text will be informed by a Critical Anthology produced by AQA. This means that the literature might be approached through the lens of feminism, Marxism or ecocriticism. Two essays of 1250 -1500 words are completed, each responding to a different text and linking to a different aspect of the Critical Anthology.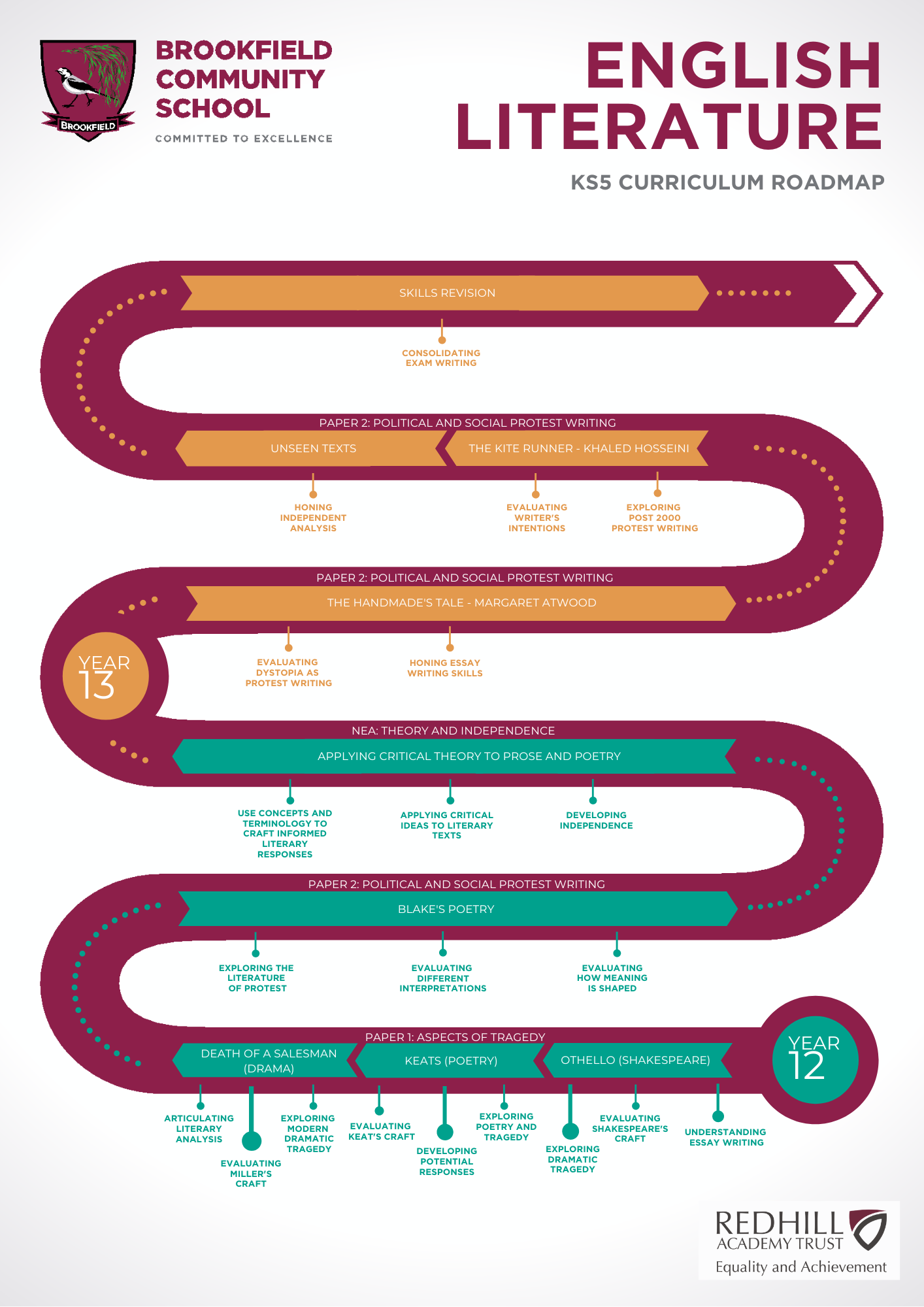 Enrichment
The English Department firmly believes in the importance of extra-curricular activities, both to enhance learning and to help promote student enjoyment of the subject The Department has been actively involved in a wide range of activities over the years. Typical activities include:
Theatre trips
A Level Literature and Language – We offer opportunities for students to attend various study days at local universities
Public Speaking Competitions
Verse speaking – An annual poetry competition is held for Year 7 towards the end of the summer term.
Writers – We encourage local writers and performers to come into school and share their expertise with us.
Carnegie Shadowing Club
Creative Writing Club
School Newspaper
BBC Schools News Report
English Leaders.
Progression Opportunities
Enriching learning experiences, encouraging students to explore challenges creatively, to be sensitive to life's diversity and to read the world critically and thoughtfully, enables our learners to progress and to participate fully as independent members of society.
Studying English could be a student's ticket to a career as an educator, writer, editor, journalist or any number of exciting occupations that rely on their use of the written and spoken word. The skills they will gain whilst studying English may apply in a wide range of education, business, and professional settings.