Psychology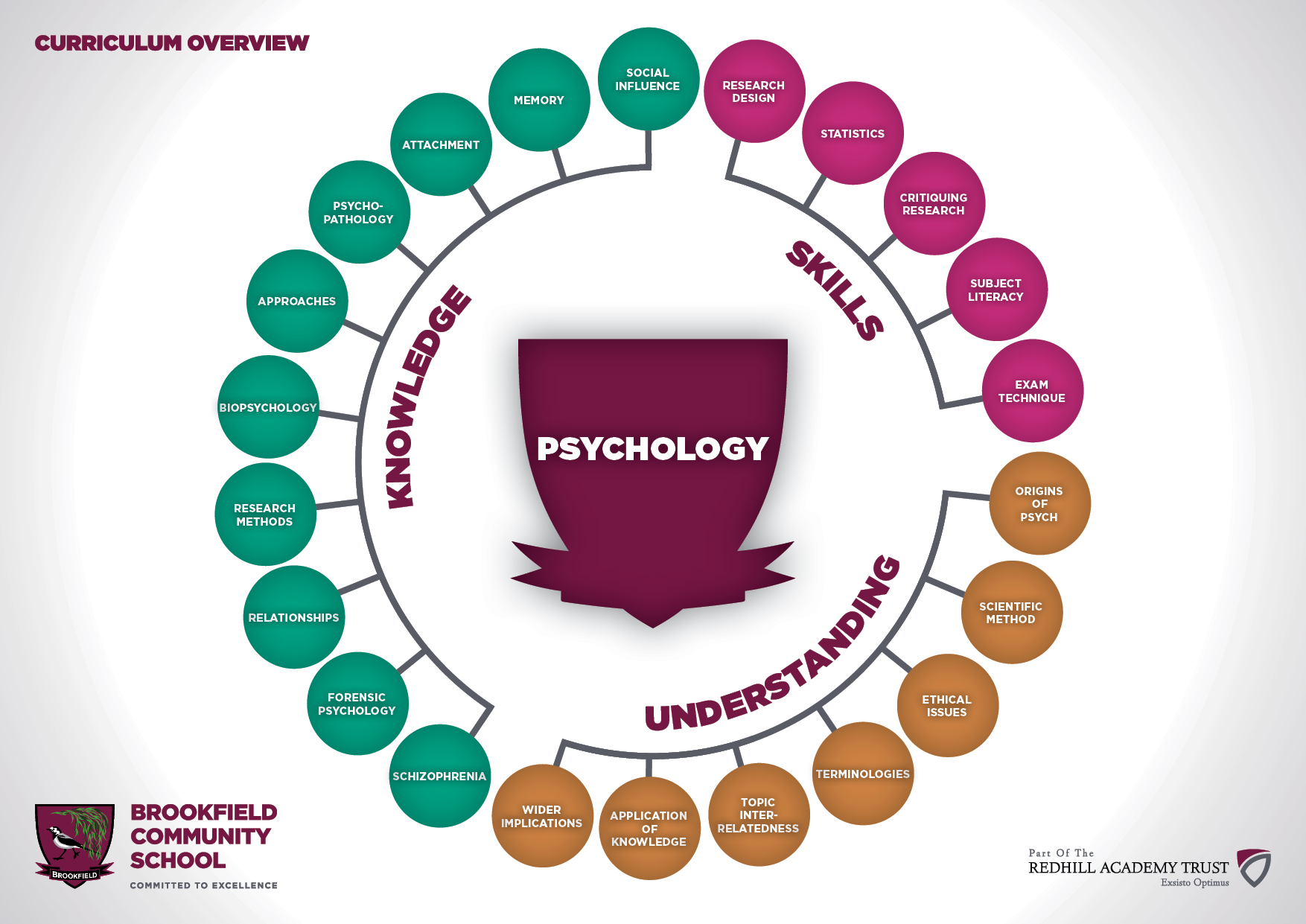 Click image to view full size.
---
Introduction to Psychology
We aim to provide a challenging, varied and fascinating introduction to the world of psychological theory and research. The A Level course spans a very diverse range of topic areas, so there is something for everyone. This course can provide the inspiration to pursue a career in Psychology, or it can simply give a valuable insights into human behaviour, which can explain and enrich all aspects of life. Studying Psychology is a journey into self awareness and a better understanding of others, thereby improving mental health and relationships along the way. Psychology A Level is not just a qualification, it is a gateway into life enhancing knowledge, skills and understanding that students take with them into their future pursuits.
Key Stage 5
A Level Psychology
Exam Board: AQA
The Course
Paper 1

Social Influence - conformity and obedience
Memory - models and forgetting
Attachment - formation, types and deprivation
Psychopathology - definitions and explanations

Paper 2

Approaches - 6 major paradigms in psychology
Biopsychology - brain and the nervous system
Research Methods (double weight) - including some statistics

Paper 3 - Options

Issues & Debates - (compulsory) - common themes
Schizophrenia - explanations and therapies
Relationships - formation, types and breakdown
Forensic psychology - profiling, explanations and treatment
The course content is presented above according to which paper the topic is examined by.
However, the topics are taught in a different order to this, in order to give students the important knowledge and understanding to fully appreciate topics taught later. For example Approaches and Research Methods are fundamental topics that are taught first in Y12. These topics underpin later topics and will allow students to evaluate theory and research in a more informed way.
Skills you will be taught:
Literacy Skills:
AO1 – Describing and Explaining skills
AO2 – Application of knowledge to a scenario
AO3 – Evaluation and debating skills
Mathematical Skills:
Descriptive statistics – Measures of dispersion and central tendency, %, graphs.
Inferential statistics – interpretation of statistical tests
Other skills:
Design and carry out a study
Critique of theory and research
Exam techniques
Revision techniques
How are students assessed?
3 exams, each of which account for one third of your A Level grade.
Each exam last 2 hours and each one is worth 96 marks.
The exams consist of a mixture of short answers and extended writing questions.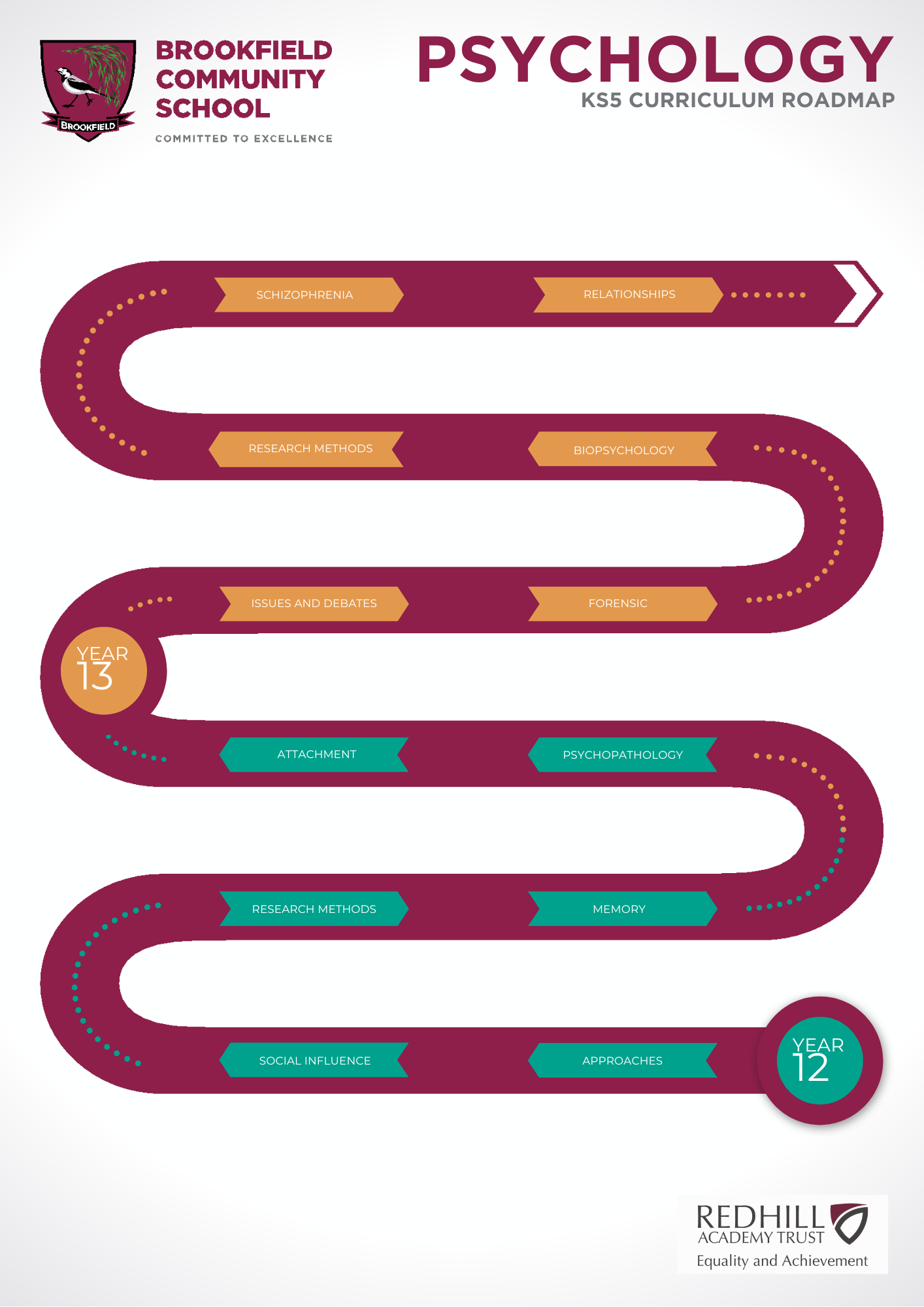 Enrichment
In Year 12 students will get the opportunity to attend a one day trip to a psychology conference. These vary from year to year, but a popular one has been at the Nottingham Playhouse.
In Year 13, students will be offered the chance to attend a revision conference.
Mindfulness Relaxation: This is offered as an enrichment option as part of the BE Programme.
Numbers are limited for this activity, and non-psychology students may want to join, so sign up early.
Progression Opportunities
Psychology is recognised by many universities as a valuable science A Level, equipping students with many multidisciplinary skills, ranging from writing skills through to statistical analysis and research design skills. For this reason, it is a valuable A Level across many fields, not just within a career as a practising psychologist.
There are a huge range of areas that qualified psychologists can work in:

Clinical Psychology
Counselling Psychology
Educational Psychology
Forensic Psychology
Health Psychology
Neuropsychology
Occupational Psychology
Sport & Exercise Psychology
Teaching and Research in Psychology.
All of these career paths require post graduate study.

Other fields that psychology graduates work in include:

Health Service
Education/Teaching
Civil Service
Armed Forces
Social Work
Probation Service
Occupational Therapy
Market Research
Personnel Management
Statistics
Food and Drink
Pharmaceutical Industries
And many more.

See the British Psychological Society website for more information on career pathways.